What percentage of marriages end in divorce?
13/11/2023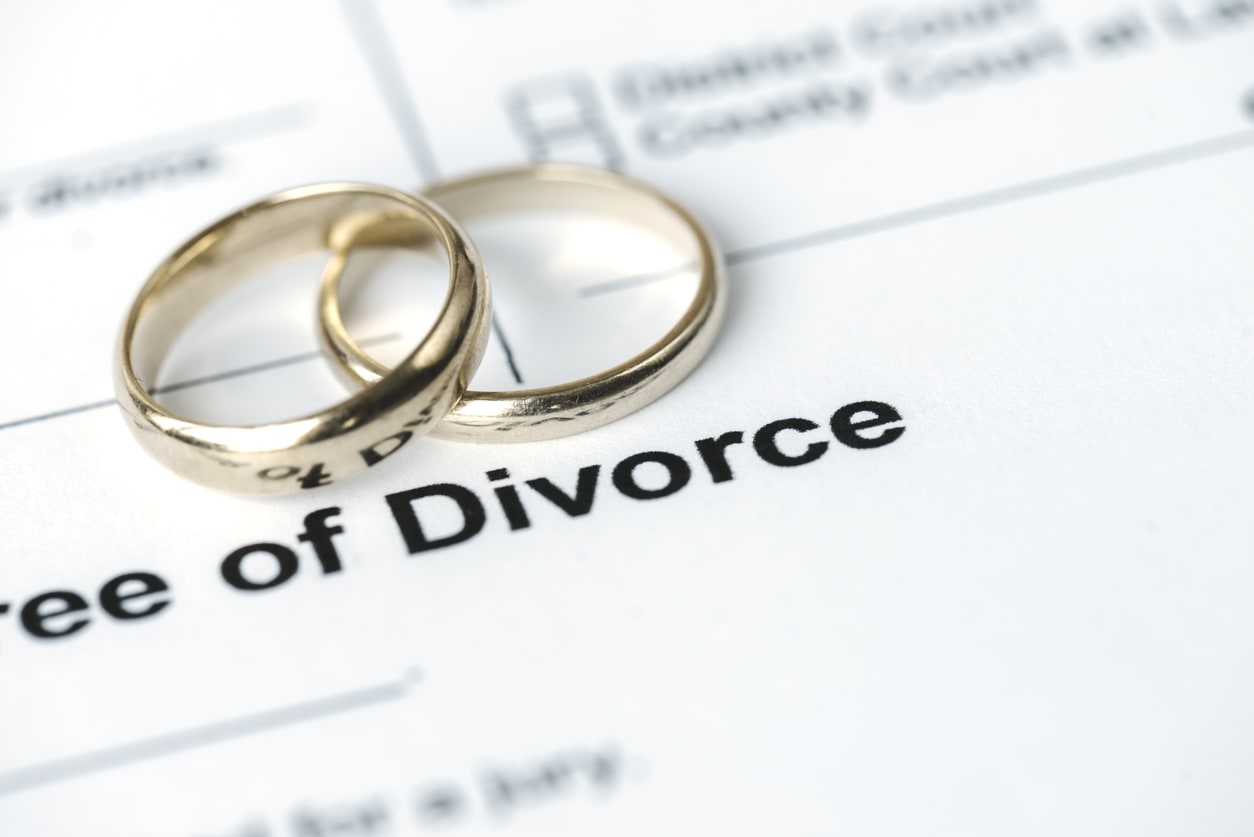 ---
Whilst many people typically don't go into a marriage expecting that it will one day end in divorce, unfortunately for many newlyweds in the UK this will be a reality. In 2020, over 100,000 British couples got divorced which was in fact a decrease of 4% compared with 2019. So what percentage of marriages end in divorce?
Divorce Rate UK
Around half of all divorces will occur within the first decade of marriage with divorce rates being highest for younger couples in their 20s around the 4th and 9th years of marriage. Despite this higher divorce rate among younger couples, the average age of divorce in the UK is 45 for men and 42 for women. The current divorce rate of 42% is in fact the lowest since the 1970s. Around 14% of marriages end in divorce due to adultery with Norwich having the highest divorce rate compared to other areas at 12.5%.
---
The current UK divorce rate is 42%
---
Divorce Percentage in the UK
Despite many claims that divorce rates are increasing, the proportion of divorces since 2011 has remained stable at around 9% of marriages. The proportion of adults who have never married however has increased each decade since 1991. Today it is estimated that less than half of all adults have been married or are in a civil partnership.
What are the economic impacts of divorce in the UK?
It is estimated that the total cost of divorce in the UK costs the taxpayer a whopping £51 billion per year. This is due to the impact of legal aid costs, housing support initiatives and mental health-related services. These are only some of the factors which influence the costs of divorce to the UK taxpayer.
How do UK divorce rates compare to other countries?
Divorce rates are typically shown as divorces per 1000 of the population. The countries with the highest recorded divorce rates are highest divorce rates are Russia, Belarus, Gibraltar, United States, Moldova, Lithuania, Belgium, Cuba, Czech Republic, and Ukraine. However, some sources dispute this with Portugal being ranked the highest with a 67% divorce rate.
According to a 2020 UNIDOMO questionnaire, the UK is ranked 14th in Europe for its divorce rate.
Who applies for divorce in the UK?
According to the ONS, women made up 64% of divorce applications in the UK for 2020. This was actually a decrease from 69% in 2010. Another interesting find from this ONS study was that the gender gap for who applies for divorce is actually narrowing. The reasons for this were cited as changing social attitudes towards divorce, increasing financial independence for women, and the rising number of working mothers in the UK.
What percentage of second marriages end in divorce UK
31% of second marriages in the UK end in divorce, a drop from the 42% divorce rate of first-time marriages. Interestingly the divorce rate for third marriages also decreases. Whilst some may view this as being a sign that more experience in previous relationships leads to longer-lasting subsequent marriages, the advanced age of couples in many third marriages appears to be the main factor in the reduced divorce rate. Couples over 65 years old only had a divorce rate of 10%, making them the lowest age bracket for divorce. Whilst some have attributed this to differing cultural norms and values between older and younger generations living in Britain, in all likelihood the legal difficulties and costs of divorce are likely to be significantly more unappealing to senior citizens.
Legal partnership percentages in England and Whales
As shown in this ONS graph, the percentage of the population in a marriage or legal partnership across England and Wales remains fairly consistent at around half the population.
---
Office for National Statistics graph
More UK divorce statistics
Here are some additional statistics around divorce in the UK.
The UK has had a decreasing divorce rate since the early 1990s
The most common reasons for getting a divorce include infidelity, incompatibility and financial issues
Couples that cohabit are more likely to separate than married couples.
The Median age for divorce in the UK for men is 46.3 years old
The Median age for divorce in the UK for women is 43.7 years old
Summary
The UK is by no means unique in its divorce statistics, in fact when compared with many others in Europe it is relatively normal. Regardless of where or why people seek a divorce, it is important to seek professional legal advice prior to taking official action. To avoid unnecessary emotional stress and conflict, communicate any intentions for divorce openly and clearly with your partner and involve them in the process. If this is not possible you should seek further legal assistance on your options. 
---
This article is intended as generic information only and is not intended to apply to anybody's specific circumstances, demands or needs. The views expressed are not intended to provide any financial service or to give any recommendation or advice. Products and services are only mentioned for illustrative rather than promotional purposes.
---
References
How Many Marriages end in Divorce in the UK?
https://www.ons.gov.uk/peoplepopulationandcommunity/birthsdeathsandmarriages/
https://www.crispandco.com/site/divorce-statistics
https://www.crispandco.com/site/divorce-statistics/