Compare Bicycle Insurance Online
Cheap Bicycle Insurance Quotes
Compare quotes from a range of providers

Access Cashback & Rewards

97% of reviewers recommend us
Compare quotes from a wide range of UK insurance providers, including





---
Looking for cheaper insurance?
Search a range of different insurance providers
Quotezone increases your chance of finding a great deal by searching the market for you.
Buy online or by phone
Purchase your bicycle policy quickly and easily, monthly and annual payment options available.
You could save time and money
Get your quotes by filling in one simple form, compare prices, and start saving.
Over three million users
Join our ever-growing list of satisfied customers today.
Secure & Encrypted
We guarantee your confidence when shopping online by following the latest internet security standards.
Independent and unbiased service
We aren't owned by or have any investment from any insurance company.
What people have to say about us
Thank you this is best one
Very easy website to use, vast amount of quotes to choose from and lots of information about each policy. Good prices as well.
4.75/5 from 2914 customer reviews
Bicycle Insurance: compare cheap cycle insurance quotes online
---
If you belong to the 42% of people in the UK who own or have immediate access to a bicycle then bicycle insurance could be a very wise investment.
And in fact that percentage is only likely to rise because cycling is becoming increasingly popular across the country, with several factors contributing to this fast-growing 'cycling revolution', as it has often been dubbed. Push bikes are environmentally friendly, they're highly convenient and hardwearing, and cycling is also a great form of exercise.
The Department for Transport has also committed itself to promoting cycling as a mode of transport via its Cycling and Walking Investment Strategy, which is encouraging a growing number of travellers to add cycling 'stages' to their journeys (cycling to the train station before boarding the train to work, for instance).
Beyond all that, though, it probably goes without saying that one of the appeals of cycling is that a bicycle is very cheap to run.
The bikes themselves, on the other hand, are sometimes prohibitively expensive, with many costing £1,000 or more while the most high-end bikes can cost upwards of £10,000 (a Specialized S-Works, for instance, which sells for just under £11,000).
Given their portability, their growing ubiquity in the UK and their potential value on the black market, it should come as no surprise that bicycles are often targeted by thieves. In fact, more than 300,000 bicycles are stolen in the UK each year, according to data from an annual crime survey carried out by the Office for National Statistics.
That's just one of the many reasons it might be a good idea to take out a relatively cheap cycle insurance policy if your bike is even remotely valuable. Finding the cheapest cycle insurance doesn't need to be complicated, at Quotezone we can help with that. Our simple quote comparison system lets you go compare bicycle insurance quotes in moments so finding the right deal for you has never been easier.
Insuring a bicycle in the UK: a no-nonsense guide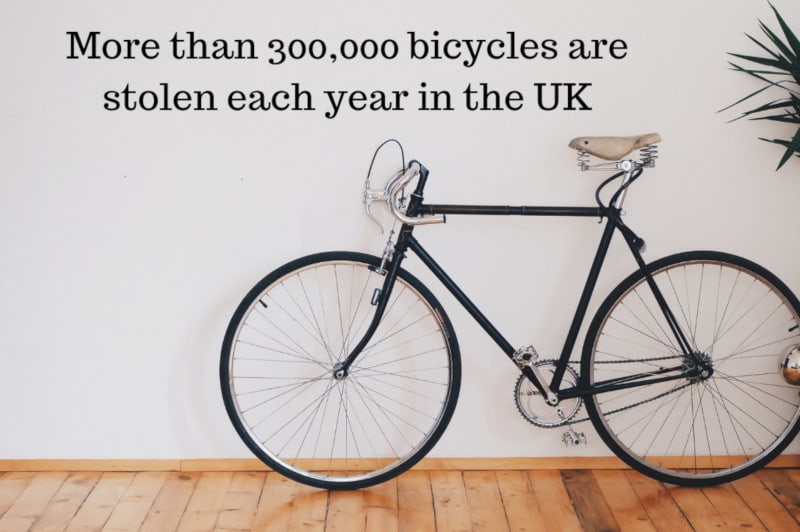 Am I legally obliged to insure a bicycle if I'm cycling on the road in the UK?
No, unlike car drivers, which must have third party car insurance at the very least before they take to the roads, cyclists are under no obligation to insure a bicycle in the UK.
That said, there have been calls in the past for cycle insurance to become mandatory, not least because cyclists run the risk of being held personally liable for damage to cars or other property if they cause an accident through negligence or reckless cycling.
Still, beyond the potential risk of a cycling liability claim, one of the main reasons cyclists invest in a relatively cheap cycle insurance policy is because it can help to protect them against the very real risk of bicycle theft. This is why types of cover such as student bike insurance can be very useful for keeping your main way of getting around safe at an affordable price.
How can I find cheaper bicycle insurance?
Firstly, you should use Quotezone.co.uk to compare bicycle insurance quotes from a wider range of providers, which increases your odds of finding a suitable policy at a cheap price.
Beyond comparing bike insurance quotes online, taking the following steps could also help to increase your odds of finding cheap bicycle insurance:
Investing in a high quality bicycle lock, and ensuring that the one you buy is insurer-approved: Most bicycle locks are rated for security on a gold, silver and bronze scale, and some insurers may refuse to pay out if your bicycle is worth more than £2,000 and it wasn't secured with a gold-rated locking device at the time it was stolen.
Registering your bike on bikeregister.com, the UK's national cycle register database: It's free to register your bicycle on bikeregister.com, and every police force in the UK uses the database to search for stolen bikes. Investing in one of BikeRegister's security marking kits can also help to lower your insurance premiums.
Adding your bicycle to your home insurance policy: If your bike isn't a high-end model you could be able to add it to your standard home insurance policy, which would mean your bicycle is covered without the need for a separate insurance policy. However, it's important to double check the small print if you choose to cover your bike under your home insurance, as some policies may only insure your bicycle while it's stored at your own home.
Only riding your bicycle yourself: Many bicycle insurance policies will only pay out if the bike is stolen or damaged while it's being used by the policyholder, so if you lend it to a friend or a family member and something happens to it while they're using it you might not be covered.
Agreeing to a higher voluntary excess: Many bicycle insurance policies impose a mandatory excess, but you can sometimes find cheaper quotes if you agree to add a higher voluntary excess on top. Of course, you that does mean you'll have to cover a higher proportion of the costs yourself if you ever have to make a claim.
Does bicycle insurance include cycling liability cover?
It depends on the particular insurance provider you decide to go with and the type of policy you opt for, but many bicycle insurance policies do include some level of third party cycling liability cover, which would mean it could pay out if you were sued by a pedestrian, a motorist or another cyclist if you damaged their property or caused them personal injury.
If the bicycle insurance you take out doesn't include cyclist liability cover as standard you may well be able to add it as an optional extra.
Does bicycle insurance cover the tyres?
No, when you're insuring a bicycle your tyres usually won't be covered, so if you suffer a puncture you'll almost certainly have to pay for the resulting costs yourself.
Bicycle Insurance Comparison