Personal Loans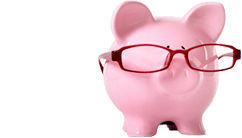 If you're hoping to take out an unsecured loan it would be a good idea to compare loans from a range of different lenders - by shopping around you stand a better chance of finding a suitable personal loan at a competitive interest rate.
Unsecured personal loans from UK lenders
---
A wide range of different lenders offer unsecured loans in the UK, but the interest rates on those loans can vary quite considerably even though they all use the Bank of England's base rate as their starting point.
Your own credit history will have an impact on the APR you're offered, of course, and the amount of debt you already have prior to taking out this new unsecured loan can also have an impact.
But the lender you decide to go with can affect the interest rate you pay as well, even if you have a flawless credit history and no other debts, which is why it's always a good idea to compare unsecured loans from a range of different lenders before you sign on that dotted line.
Are unsecured loans cheaper than secured loans?
No, the opposite is usually true – because borrowers who take out a secured loan are agreeing for their property (or some other asset the lender is willing to accept as collateral) to be used as security against the loan, those borrowers generally represent a lower risk to lenders and therefore often benefit from cheaper interest rates than someone who is taking out an unsecured loan.
Are unsecured loans available to people with bad credit?
Yes, even if you have a history of missed payments or CCJs it's often still possible to find a lender that will offer you an unsecured loan.
Of course, you will likely have fewer loan companies to choose from when you're looking for a loan for someone with a poor credit history, and it's important to bear in mind that your APR is likely to be much higher in order to offset the additional risk of default you represent to the lender.
Can I take out a large personal loan, or are larger loan amounts only an option if I provide property as security?
As a general rule of thumb borrowers who offer a valuable asset like a property as security against their debt are usually able to borrow larger loan amounts, but there are some lenders who are willing to offer large personal loans even when the loan is unsecured.
Of course, the lender will need to be confident that you will be able to afford the loan, which means they will take into consideration your income, your outcomings, your other debt obligations and your history of making debt repayments when deciding how much to lend to you.
How can I find the best unsecured loan rates?
The interest rate you're offered when you're taking out an unsecured personal loan can vary considerably from one lender to the next because they each have their own lending criteria, so it's vital that you shop around by comparing unsecured loans from a wide range of different lenders.
It's also important to ensure that you haven't missed any loan or credit card repayments in the months prior to applying for the loan, and you should avoid dipping into the overdraft facility on your current account as well, because both of those factors can result in higher unsecured loan rates when you do apply for a personal loan.