Wedding Insurance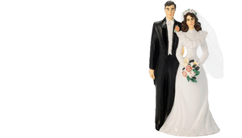 Quotezone are here to help! Please see our directory below of Wedding Insurance specialists - wedding insurance comparison made that little bit easier! Weddings can be very expensive, so the need for insurance has now become even more essential for those people planning their special day. Compare cheap wedding insurance quotes and start saving today! In order to help you with your decision we have listed a number of partners who specialise in this area.
Quotezone is providing you access to specialist Wedding Insurance providers through the above links.
To prevent any unexpected costs it can be important to have insurance cover at an affordable price. Whether you are planning a wedding aboard, or even in your own back garden, Quotezone could help find you a policy that suits your needs, and covers you against any unforeseen risks. A wedding policy can include change of date cover, loss of wedding rings, accident cover, cancellation, marquee insurance, as well as public liability insurance for your guests, or a combined policy for all.
If you're looking for wedding insurance, we understand that you don't always have the time to comb the internet looking for the most competitive insurance policies online, that's why we do the searching for you! From our directory of UK insurance providers we could help you find affordable policies to cover your specific needs.
Compare cheap wedding insurance quotes and start saving today!