Compare inflatable boat insurance quotes now
Cheap Inflatable Boat Insurance
Quotes from UK insurance providers

One short form – save time & money
Policies and deals from industry leading insurance providers, including







---
Looking for cheaper insurance?
Norton secured
Our quote form uses 128-bit SSL encryption for your peace of mind.
Over three million users
Join our ever-growing list of satisfied customers today.
You could save time and money
Get your quotes by filling in one simple form, compare prices, and start saving.
Independent and unbiased service
We aren't owned by or have any investment from any insurance company.
What people have to say about us
Quick and easy to use found what I was looking for and saved £150 on my renewal quote
4.75/5 from 2079 customer reviews
Inflatable Boat Insurance
---
Insure your inflatable boat: get quotes from a wide range of boat insurance specialists
Insurance for inflatable boats isn't always mandatory in the UK, particularly if you're only planning to sail the boat in UK coastal waters. If you plan to take it into inland waterways, though, inflatable boat insurance usually is required.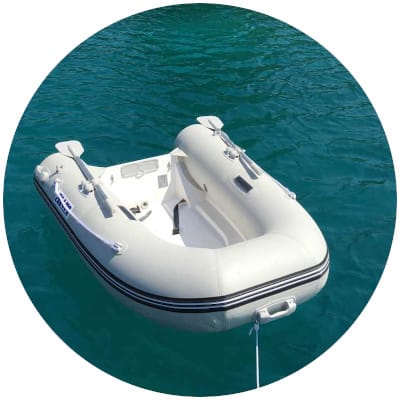 But whether or not you're legally obliged to insure your inflatable boat, it might be a wise idea to take out this kind of policy before you take to the water. Not only could it protect you against the risk of a third-party liability claim if you injure someone or damage their property, but some of the best inflatable boat insurance policies can also pay to repair or replace your own inflatable boat in the event of an accident.
What is inflatable boat insurance?
Inflatable boat insurance is an insurance policy that is designed to protect your boat, the people on your boat and other craft on the water. It can insure you against the risk of a third-party liability claim if you cause an accident while sailing your inflatable boat, and if you opt for a more comprehensive insurance policy it can also cover the cost of damage to your own vessel.
How much does inflatable boat insurance cost?
It's impossible to give an average figure for inflatable boat insurance, because each insurance provider uses its own calculation to determine their insurance premiums. Those calculations also take into account a wide range of variables that can influence the cost of your inflatable boat insurance, such as the age of the vessel, where it's moored, whether you plan to use it for boating in rivers and waterways or in the sea (or both), the maximum speed the boat's outboard engine is able to achieve, whether you've held boat insurance in the past, and if so how many years no claims discount you've built up.
With that in mind, the best plan is to get quotations from a wide range of different marine insurance providers, and then go with the one that offers the most suitable policy at the most competitive price.
Does inflatable boat insurance cover theft?
Yes, inflatable boat insurance policies can insure boat owners against the risk of their vessel being stolen, although in order to gain this type of coverage you would need to opt for a more comprehensive inflatable boat insurance policy rather than a cheaper one that is only designed to insure you against the risk of a third-party liability claim.
What's the difference between an inflatable boat and a rigid-inflatable boat?
Rigid-inflatable boats (RIBs) are a specific type of inflatable boat that features a rigid hull. They're usually able to cut through the water at speed much more easily than a soft inflatable boat because of their streamlined hulls, and they often feature more powerful engines than soft inflatables too (in fact, some soft inflatable boats, such as inflatable rowing boats or dinghies, don't have engines at all).
Because of their more powerful outboard engines and their higher rate of knots RIB insurance often costs more than you'd pay to insure a soft inflatable boat.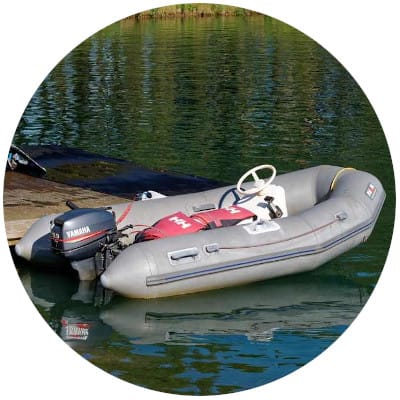 Does inflatable boat insurance cover the cost of damage to my own boat?
That depends on which inflatable boat insurance policy you decide to go with. The terms of some policies limit your coverage to third-party liability cover, which means you'd be insured against liability claims if you were involved in an at-fault accident but would have to personally cover the cost of repairing or replacing your own inflatable boat.
Some inflatable boat insurance policies do include cover for the boat itself in addition to liability cover, though, and if you take out that kind of policy you should be covered for any damage your own boat might sustain in the event of an accident.
Does inflatable boat insurance include liability cover?
Yes, most inflatable boat insurance policies will provide the policyholder with third-party boat liability cover, which means if you injury someone, cause damage to a marina, dock or other mooring, or damage someone else's boat you should be insured against the risk of legal action and compensation claims.
What optional extras are available when taking out inflatable boat insurance?
As with most boat insurance policies, when you're insuring an inflatable boat you'll usually be able to choose a range of add-ons that you can bundle with your policy for an additional fee. Some of the most common add-ons for inflatable boat insurance include water ski liability insurance (if you're planning to use your boat to pull waterskiers), water toy insurance (if you'd like to insure banana boats, donuts or other inflatable recreational toys alongside your inflatable boat), and road transit insurance (to protect your inflatable boat when you're transporting it to and from the water).
Is it true I have to name my inflatable boat before I can insure it?
No, not necessarily… but you're usually required to name your boat prior to registering it for use on the UK's inland waterways, and if you want to register it on the UK Ship Register service for use in coastal waters you'll need to name your boat for that register too.
Boat insurance providers will often ask for the name of your boat when you're getting an insurance quote, so if you have registered the vessel for use in inland waters or coastal waters you should provide the insurer with the name you gave the boat when you registered it.
Ready to insure your boat? Compare cheap inflatable boat insurance quotes now
Boat Insurance Comparison