Compare inflatable boat insurance quotes now
Cheap Inflatable Boat Insurance
Quotes from UK insurance providers

One short form – save time & money
Policies and deals from industry leading insurance providers, including





---
Looking for cheaper insurance?
Secure & Encrypted
We guarantee your confidence when shopping online by following the latest internet security standards.
Over three million users
Join our ever-growing list of satisfied customers today.
You could save time and money
Get your quotes by filling in one simple form, compare prices, and start saving.
Independent and unbiased service
We aren't owned by or have any investment from any insurance company.
What people have to say about us
Very easy website to use, vast amount of quotes to choose from and lots of information about each policy. Good prices as well.
the price was right and the customer service excellent.
Poulton-le-Fylde, United Kingdom
4.75/5 from 2911 customer reviews
Inflatable Boat Insurance – Compare Cheap Quotes
---
Whether you own a Rigid Inflatable Boat (RIB) or a Soft Inflatable Boat (SIB), if you intend to use your inflatable boat to navigate inland waterways in the UK then you'll usually have an obligation to take out an inflatable boat insurance policy before you take to the water.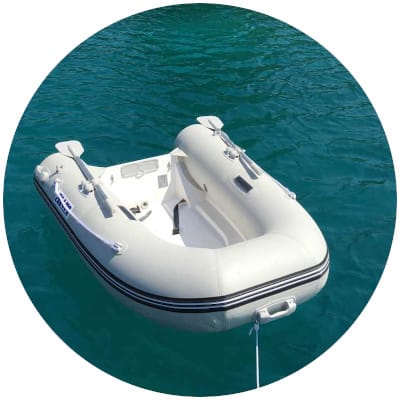 However, even if you only ever plan to take your inflatable out on the sea, where boat insurance usually isn't mandatory, a suitable insurance policy for your inflatable boat would still be a wise investment.
After all, even if you bought a relatively cheap inflatable boat and therefore aren't worried about the cost of repairing or replacing it if it's ever damaged or stolen, the best inflatable boat insurance policies can also help cover the cost if you damage someone else's boat.
Luckily Quotezone.co.uk's boat insurance comparison service can help you compare quotes from a range of different inflatable boat insurance brokers and boat insurance specialists, making it more likely that you'll find the right policy at the right price
Compare inflatable boat insurance quotes now
How much does inflatable boat insurance cost?
Boat insurance specialists take a wide range of different risk factors into consideration when they are calculating your premium, so it's impossible to give an idea of how much you're likely to pay to insure your inflatable boat without taking these variables into consideration.
For instance, the type of inflatable boat you own, whether it is a RIB or a SIB, its estimated value, its make and model, the year it was manufactured, the type of engine it has, where you store it and where you normally sail it can all affect the cost of insuring an inflatable boat.
The best plan is to use our price comparison service to compare inflatable boat insurance quotes from a range of different providers, and then go with the one that offers the best policy at the best price.
What type of insurance do I need if I plan to take my inflatable boat out on the river?
Third party boat insurance is usually the minimum requirement for inland waterways, and in most places your policy will need to provide at least £1 million of coverage.
However, many inflatable boats are designed as seaborne vessels, and as such they often have engines with similar horsepower (and comparable speeds) to those found in motor boats, speed boats and powerboats. Given that there is a strict speed limit of 6 miles per hour on most rivers in the UK, if your rigid inflatable boat has been designed as a seaborne vessel and has a top speed of around 30 knots it might be best to keep it off the river and stick to coastal waters.
Does my inflatable boat have to pass a BSS examination before I can insure it?
A Boat Safety Scheme (BSS) examination and certification is usually only mandatory for boats that have some sort of cabin or cuddy, and/or for boats that have in-board engines.
Given that most inflatable boats are open vessels without any type of cabin, and most of them have outboard engines rather than in-board ones, a BSS examination often isn't mandatory.
However, it is still possible some boat insurance providers might ask for a BSS certificate, so it's worth double checking this with your own insurance provider.
Boat Insurance Comparison