Cheap Specialist Van Insurance
Specialist van insurance quotes from UK-based insurance providers
---
You may not think your van is particularly 'specialised', but no matter how ordinary and run-of-the-mill the vehicle seems to you there are a number of factors that could mean you need to take out specialist van insurance.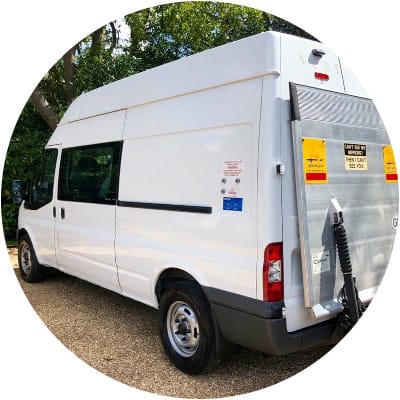 For example, you'll likely need a specialist van insurance policy if any of the following apply:
You're insuring an imported van
You're insuring a van that is left-hand drive
You're insuring a refrigerated van
You're insuring a van that transports hazardous materials
If any of those apply to your own van then it would be a wise move to use Quotezone.co.uk's unbiased price comparison service to compare specialist van insurance policies, which could help you find a better deal by comparing quotes from a wider range of providers.
Compare specialist van insurance quotes now
Specialist van insurance: a no-nonsense guide
Does specialist van insurance cost more than regular van insurance?
Yes, in many cases a specialist van insurance policy will cost a bit more than you'd pay if you were insuring a standard van, because many of the factors that require specialist insurance affect the vehicle's risk profile.
For instance, a van that has been modified could have a higher risk of being involved in an accident if the modifications enhance the vehicle's engine performance, while other modifications (tail lifts or wheelchair ramps, for instance) can sometimes push the van into a higher insurance group by increasing the vehicle's weight.
Should I use a van insurance broker if I require specialist van insurance?
Some van drivers turn to local van insurance brokers each time their insurance is due for renewal, but it's when you require truly specialised van insurance that brokers can often be most helpful.
However, a growing number of insurance providers are beginning to offer specialist van insurance, so it would be a good idea to use Quotezone.co.uk's van insurance comparison service in addition to checking with a local broker. You can then go with the provider that offers the most suitable policy at the cheapest price.
How can I find cheaper specialist van insurance quotes?
This probably goes without saying, but we'll say it anyway: rather than simply accepting your existing insurance provider's renewal quote you should use Quotezone.co.uk to compare quotes from a wide range of insurance companies each time your specialist van insurance is due for renewal.
Beyond that, the following steps could help to reduce the cost of your specialist van insurance:
Adding "How's my driving?" stickers or decals if you drive a commercial van: Some insurance providers will offer cheaper quotes for commercial van insurance or business van insurance if the van has a "How's my driving?" decal or sticker on the rear, because data suggests the drivers of vans with those stickers are involved in 22% fewer road traffic accidents.
Parking your van off the road: If you're able to park your van in a garage or on a private driveway this can reduce the risk of the vehicle being stolen or damaged by a passing vehicle, which in turn could reduce the cost of your specialist van insurance.
Installing an alarm or engine immobiliser: Some insurance companies will offer van drivers cheaper quotes if they install additional security features in their vans, such as engine immobilisers or vehicle alarms.
Paying annually: Paying for your specialist van insurance on an annual basis is usually a little cheaper than paying it off monthly.
Agreeing to a higher excess: Agreeing to a higher voluntary excess could reduce the upfront cost of your specialist van insurance, although in some cases the cost saving is small.