Compare British cycling insurance quotes now
Cheap British Cycling Insurance
Compare quotes from a range of providers

Access Cashback & Rewards

97% of reviewers recommend us
Compare quotes from a wide range of UK insurance providers, including






---
Looking for cheaper insurance?
Search a range of different insurance providers
Quotezone increases your chance of finding a great deal by searching the market for you.
Buy online or by phone
Purchase your bicycle policy quickly and easily, monthly and annual payment options available.
You could save time and money
Get your quotes by filling in one simple form, compare prices, and start saving.
Over three million users
Join our ever-growing list of satisfied customers today.
Norton secured
Our quote form uses 128-bit SSL encryption for your peace of mind.
Independent and unbiased service
We aren't owned by or have any investment from any insurance company.
What people have to say about us
Very helpful and understanding
4.74/5 from 2216 customer reviews
Insurance for British cyclists: compare cheap cycling insurance quotes
---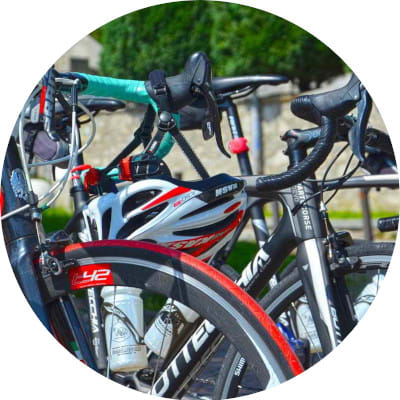 The UK has undergone something of a 'cycling revolution' in the past decade, with the number of British cyclists growing steadily as a range of government and local council initiatives have been launched to promote British cycling.
There are several reasons the public sector has been so keen to encourage a growth in the rate of cycling in the UK. Push bikes are environmentally friendly, which means they have the potential to help the government and local authorities meet their environmental targets. They can also help to alleviate congestion on British roads, and cycling is a great form of exercise which means it could potentially relieve some of the burden on the NHS.
From a British cyclist's perspective, a bicycle is also a highly convenient and hardwearing vehicle, and cycling is a remarkably cheap mode of transport.
Of course, while it's sure to be cheap to run, the bike itself has the potential to cost quite a lot of money upfront – more than £1,000 in many cases, and upwards of £10,000 for some of the most high-end road bikes.
The potential value of a British road bike, trials bike, BMX or mountain bike makes them very attractive to thieves, which is just one of the reasons many British cycling enthusiasts decide to invest in a relatively cheap bicycle insurance policy for their bike.
Compare insurance policies for British cycling enthusiasts now
Insurance for British cycling enthusiasts: A straightforward guide
Is British cycling insurance a legal requirement if I'm cycling on British roads?
While many of the British cycling initiatives that have been launched by the UK government in the past decade have been specifically designed to encourage cyclists to either commute to work or include cycling as part of that commute (which the government calls a cycling 'stage'), you aren't legally obliged to take out a British cycling insurance policy even if you do cycle on the UK's roads.
There are several reasons for that, but one of the main ones is the fact that cyclists are likely to inflict much less damage on third parties than motor vehicles would do in the event of an accident.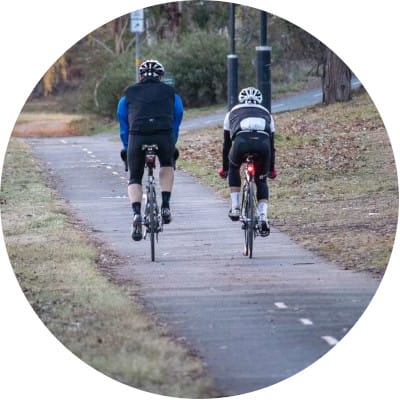 Of course, just because you aren't legally obliged to take out a British cycling insurance policy for your pedal bike doesn't mean it wouldn't be a wise investment. Not only could a bicycle insurance policy cover you against the risk of bicycle theft, but many of the best policies will also pay for legal fees and compensation claims if you injure a pedestrian or damage someone's property.
How much does British cycling insurance cost?
It's difficult to give an average cost for cycling insurance in the UK because the premium you're quoted will take a wide range of personal factors into account, including your postcode, the crime rate in your local area, the type of bicycle you own, the bike's insurable value, the type of locking device you use when securing the bike and whether or not that locking device has a Gold, Silver or Bronze 'Sold Secure' rating.
The best plan is to use our price comparison service for British cycling insurance, which will enable you to compare quotes from a range of providers. You can then go with the provider that's offering you the best policy at the cheapest price.
How can I reduce the cost of my British cycling insurance?
There are several things you can do that will increase your odds of finding cheaper cycling insurance. For example, you should consider:
* Adding your bicycle to your home insurance policy: This is likely to be the cheapest option, because it means you won't have to take out a separate insurance policy. However, it's worth bearing in mind that your home insurance may only cover you up to a certain value (£500, for example), so if your bike is worth more than this you might not be fully covered. It's also important to make sure that your coverage isn't limited to when your bike is at your own home, otherwise you won't be insured when you're out and about.
* Using an insurer-approved lock when you're chaining up your bike: Locks that are rated as 'Sold Secure' are approved by most British cycling insurers, but there are three Sold Secure ratings (Gold, Silver and Bronze) so you'll need to make sure you choose a lock with a rating that matches the value of your bike. If your bike has an insurable value of £1,000 or more, for instance, your insurer might insist that you secure it with a Gold Sold Secure lock.
* Registering your bicycle on bikeregister.com, the British cycling database: It's free to register, and if you also buy one of the register's security marking kits the cost of your insurance could fall a little.
* Agreeing to a higher voluntary excess: If you agree to a higher voluntary excess on your British cycling insurance you could be offered lower premiums.
Bicycle Insurance Comparison