Compare multi bike insurance quotes now
Cheap Multi Bike Insurance
Compare quotes from a range of providers

Access Cashback & Rewards

97% of reviewers recommend us
Compare quotes from a wide range of UK insurance providers, including






---
Looking for cheaper insurance?
Search a range of different insurance providers
Quotezone increases your chance of finding a great deal by searching the market for you.
Buy online or by phone
Purchase your bicycle policy quickly and easily, monthly and annual payment options available.
You could save time and money
Get your quotes by filling in one simple form, compare prices, and start saving.
Over three million users
Join our ever-growing list of satisfied customers today.
Norton secured
Our quote form uses 128-bit SSL encryption for your peace of mind.
Independent and unbiased service
We aren't owned by or have any investment from any insurance company.
What people have to say about us
Very helpful and understanding
4.74/5 from 2216 customer reviews
Multi Bike Insurance: compare cheap insurance quotes for multiple bicycles
---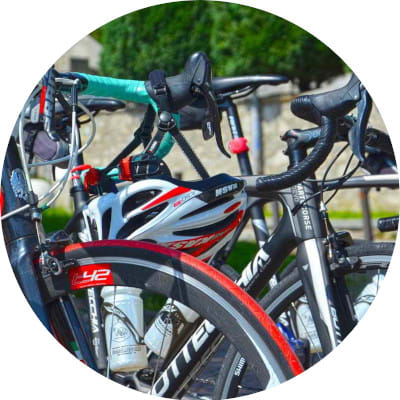 More than 5 million people in the UK cycle at least once a week, according to the Department for Transport's Cycling and Walking Statistics reports, and approximately 1.5 million people ride a road bike or mountain bike on a daily basis.
Given the impressive growth of cycling in Britain in recent years, it should come as no surprise that a growing number of people in the UK now own two or more high-end bicycles – and many of them could save a decent chunk on their bicycle insurance by insuring all of those bikes together under a single, standalone multi-bike insurance policy.
How much could a cyclist save by insuring all of their bikes under one multi-bike insurance policy?
As with most insurance policies, it's difficult to predict how much a particular cyclist is likely to be quoted for bicycle insurance, and the same holds true if they are taking out a multi bike insurance policy.
Insurance providers will take a wide range of variables into account when calculating each premium, such as your location, the crime rate in your area, the type of bikes you're insuring, each bike's insurable value, the type of locking devices you use when securing those bikes and whether or not those locks have 'Sold Secure' ratings.
However, while it's impossible to give a pounds-and-pence figure without comparing real quotes from a range of different bicycle insurance providers, many insurers will offer 10% or 15% off the cost of insuring a second or third bike under a multibike insurance policy, while some may offer as much as 20% or 25% off.
Can Quotezone.co.uk help me compare quotes for multi-bike insurance?
Yes, Quotezone.co.uk's bicycle insurance comparison system can help cyclists compare quotes for both multi bike insurance policies and policies that are only intended to cover a single push bike.
Our aggregator will display the quote from each provider directly on the screen as soon as you've provided details of each bike via our short form.
Does multi bike insurance protect cyclists against anything other than bicycle theft?
Yes, many multi bike insurance policies offer cyclists cover against a range of other risks besides bicycle theft.
For instance, some of the best multi-bike insurance policies include cycling liability cover, meaning the insurer could cover some or all of the cost of legal fees and compensation payments if the cyclist injured a pedestrian or damaged a third party's property while riding one of the bikes named on the policy.
When you insure your bicycle you may well find that your policy includes some level of personal injury cover too, which could mean you might receive a pay-out if you're injured during a cycling accident (the size of this pay-out will obviously vary from provider to provider, and some pedal bike insurers may also assess the extent of your injuries in order to calculate the pay-out).
And since it's a multi bike insurance policy each of the policy features included in your bicycle insurance should extend to each bike.
How can I find cheap multi bike insurance?
There are a number of things you can do that will increase your odds of finding cheap multi bike insurance. Here are four, for starters: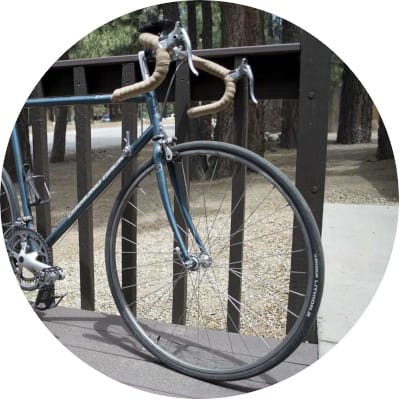 * Add your bicycles to your home insurance policy: This is often the cheapest way to insure your bikes, because it means you don't have to take out a separate pedal bike insurance policy. There are some conditions to bear in mind, though – your home insurance provider may cap the amount you can claim for each bike (a typical limit might be £500, for instance), and with some insurers you may only be covered while each of those bikes are stored at your own home.
* Use an insurer-approved bike lock on each bike: Locks that are rated as 'Sold Secure' are approved by most multi-bike insurers, but whether or not you need a Gold, Silver or Bronze 'Sold Secure' lock will usually depend on the value of each bicycle named on the policy. If one of the bikes has an insurable value of more than £1,000 your insurer may insist on a Gold-rated lock for that particular bicycle, whereas Silver or Bronze locks may be acceptable for pedal bikes that are worth less.
* Register each of your bikes on bikeregister.com, the UK's national bike register database: It's free to register, and if you also buy one of the register's security marking kits for each bike the cost of your multibike insurance could fall a little.
* Agree to a higher insurance excess: If you agree to a higher excess you'll be committing to covering a larger proportion of the cost yourself if you ever have to make a claim, but this does sometimes means you'll be offered cheaper premiums.
Bicycle Insurance Comparison