Compare timber frame home insurance now
Cheap Timber Frame Home Insurance
Quotes from UK insurance providers

One short form – save time & money
Policies and deals from industry leading insurance providers, including












---
Looking for cheaper insurance?
Secure & Encrypted
We guarantee your confidence when shopping online by following the latest internet security standards.
Over three million users
Join our ever-growing list of satisfied customers today.
You could save time and money
Get your quotes by filling in one simple form, compare prices, and start saving.
Independent and unbiased service
We aren't owned by or have any investment from any insurance company.
What people have to say about us
First insurance I obtained. Good quotes and easy to distinguish which policy might be best for me ie with or without black box etc
Thank you this is best one
4.75/5 from 2915 customer reviews
Compare home insurance policies for timber-frame houses
---
If your house has a timber frame then an ordinary, run-of-the-mill home insurance policy may not meet your needs – you might need to take out a specialist timber-frame home insurance policy instead.
Whether your home is a listed building with an original wooden frame built during the Tudor period, or it's a newly constructed timber-frame eco-home with postmodern design features, most insurance providers will view the property's timber frame as a higher fire risk – and raise their premiums accordingly.
In addition, some home insurance providers might refuse to insure your timber-frame home at any price if the property is outside their acceptable level of risk.
That's why it's so important for the owners of timber-frame properties to use an unbiased insurance comparison platform like Quotezone.co.uk when they're ready to take out a new insurance policy – because not only can it help them find a cheaper quote by comparing policies from a wider range of providers, it can also ensure that they don't waste their time dealing with insurance companies that aren't willing to insure their home.
Compare Timber-Frame Home Insurance policies now
Home insurance for houses with timber frames: a clear-cut guide
Why are timber-frame houses seen as a higher insurance risk?
Home insurance policies in the UK are relatively standardised, but timber-frame homes are usually classed as non-standard which means their risk profile can be much harder for insurance providers to assess.
Beyond the non-standard nature of these home insurance policies, though, one of the main reasons insurers see timber-frame houses as a greater insurance risk is because it is believed they're at a higher risk of fire damage. In addition, insurance claims data suggests that if a fire does break out in a home it is likely to spread much more extensively (and therefore cause more damage) if the property has a timber frame.
Is it true my home insurance might cost more if my neighbour has a timber-frame house?
If your own home has a masonry frame then your home insurance premium isn't likely to be affected by the fact that your next door neighbour has a timber-frame house.
While having a timber frame property next door might increase the risk of fire spreading to your own property, insurance providers usually only take into consideration the construction materials that were used to build your own property when they're calculating your insurance premiums.
Will timber-frame home insurance cover dry rot?
While fire damage is the most common concern for the owners of timber-frame houses, dry rot and wet rot are some of the most costly and invasive structural problems a property can experience…and unfortunately, many home insurance policies include a general provision that specifically excludes both dry rot and wet rot.
Of course, wood rot can affect any type of property, since even brick houses with masonry frames usually have wooden floorboards, wooden rafters and so on. But because the wood in a timber-frame house is so integral to the property's structure dry rot and wet rot can be particularly expensive to deal with in these types of properties.
For that reason it might be worth taking out a separate dry rot insurance policy (or adding dry rot cover to your existing building and contents insurance or landlord insurance policy) if the house has a timber frame.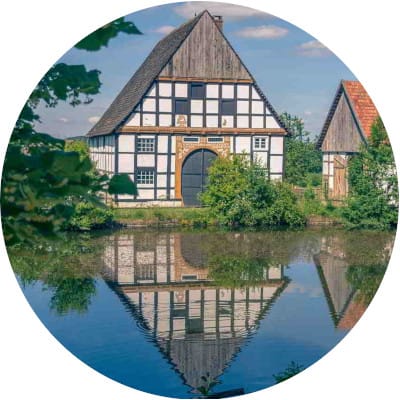 Will timber-frame home insurance cover termite damage?
Termites have caused billions of dollars' worth of damage to homes in the USA, but in the past they generally weren't an issue for homeowners in the UK because termites aren't native to the British Isles.
However, in recent years termites from continental Europe have begun to find their way into properties in the UK. According to news reports from the BBC the first case of a termite infestation in a British home was reported in 1998, but other colonies have been identified since then.
Of course, if your home is of a standard brick-and-masonry construction you won't need to worry too much about termites, but for the owners of timber-frame houses it might become an issue in the future if the number of termites in the country begins to grow.
Unfortunately if you do experience termite damage it usually won't be covered by your home insurance policy, even if you take out timber-frame home insurance. The goods news is termites do tend to prefer warmer climates, so the notorious British weather just might work in your favour this time around by reducing the likelihood of an infestation ever reaching your home.
Non Standard Home Insurance Comparison