Compare Recovery Insurance Quotes Now
Cheap Recovery Insurance
Quotes from UK insurance providers

One short form – save time & money
Policies and deals from industry leading insurance providers, including



















---
Looking for cheaper insurance?
Secure & Encrypted
We guarantee your confidence when shopping online by following the latest internet security standards.
Over three million users
Join our ever-growing list of satisfied customers today.
You could save time and money
Get your quotes by filling in one simple form, compare prices, and start saving.
Independent and unbiased service
We aren't owned by or have any investment from any insurance company.
What people have to say about us
Quick and easy to use and great results
4.93/5 from 14 customer reviews
Compare recovery insurance quotes
---
If you own or run a vehicle recovery business there's a very good chance you're going to need recovery insurance. This is a type of motor trade insurance policy that has been specifically tailored for your recovery business.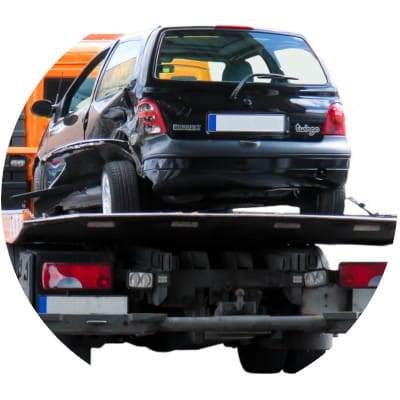 Depending on the range of risks you need to cover your business against this type of insurance policy might not come cheap…but fortunately you could find a cheaper quote if you use Quotezone.co.uk's dedicated motor trade insurance comparison service to compare policies from a wider range of providers.
Compare Recovery insurance quotes now
What is recovery insurance?
Recovery insurance, sometimes known as breakdown and recovery insurance, is a type of motor trade insurance that's specifically designed for recovery businesses.
It can protect your vehicle recovery business against liability claims or other financial loss if something goes wrong or someone makes a claim against you.
When you attend callout jobs to recover broke down vehicles, you can potentially be taking your recovery vehicles into risky locations and conditions.
Weather conditions such as snow, hail, storm and silt can all lead to vehicles becoming bogged down and requiring a recovery. Due to the risks involved in doing this it is strongly recommended that you have the correct recovery insurance prior.
Many breakdowns also occur beyond the roadside, this means you'll need to make sure you have a policy which covers you for these kinds of recoveries during your day to day operations. You'll also be interacting with members of the public which can add an additional layer of complexity. Due to this it is recommended having some level of liability insurance to protect against third part liability claims.
You may also face penalties if you don't comply with regulations that have been mandated for the breakdown and recovery sector. This means you'll be required to have certain levels of cover by law.
What does recovery vehicle insurance cover?
Recovery insurance is a combination of different types of insurance bundled together to give you the exact protection you need. Since each recovery business will have it's own risk factors and requirements, this naturally means the price of your policy cover can vary. However most businesses need some form of cover for the following as listed below.
The types of cover you can incorporate into your recovery insurance policy include:
Road risk cover – This covers you to drive vehicles that don't belong to you.
Carriage of Vehicles cover – This covers the vehicles you recover while you're transporting them. Carriage of vehicles cover may or may not be included as part of your goods in transit insurance, but if it's not it can often be added to a recovery insurance policy as a standalone add-on.
Breakdown cover – As ironic as this seems, breakdowns happen all the time and it could happen to your own vehicle, so it's a good idea to make sure you've got your own recovery vehicle insurance.
Business premises cover – This pays for repairs if your workshop or garage is damaged or destroyed by an insured event (like a fire, flood or even vandalism). Consider adding contents cover to protect office equipment too.
Tools and equipment cover – Protects the tools of your trade along with any expensive recovery equipment you have. If you keep tools in your van or recovery truck check they're covered while you're out and about.
Employers' liability cover – If you employ anyone, even on a casual basis, then you'll need this by law.
Public liability insurance – Covers the cost of compensation if a member of the public has an accident because of your business and takes you to court. 
How much cover do I need?
This depends on the type of insurance you're adding to your policy. For example, if you drive customer vehicles you'll need third party road risk cover at a minimum. This is because you have a duty of care to the vehicles which you are servicing. This is referred to as 'care, custody or control' in the motor trade industry.
If you employ staff you'll be legally required to have employers' liability insurance that covers your business for at least £5 million.
In most other cases the 'sum insured' will be based on your own requirements, and will depend on the value of the insured items –your business premises, equipment or tools, for instance.
What are the types of coverage I can take out for my recovery truck?
There are three levels of coverage that you can choose for your recovery vehicle;
Third party only (TPO) – This will cover the cost of injury or damage done to other people and their property but it won't pay to fix your recovery vehicle in an at fault accident. This is usually the cheapest coverage option and the minimum you need by law to drive on UK roads.
Third party, fire and theft (TPFT) – This coverage gives you everything TPO offers and will also pay out if your recovery vehicle is stolen or damaged by fire under insurable circumstances.
Fully comprehensive – Provides TPFT and will also pay to repair or replace your recovery truck if it's damaged in a road accident or because of another insured event (for example, if a tree fell on it). As you'd expect, this is usually the most expensive level of cover you can buy.
It's up to you which level of cover you choose, but it's worth remembering that while a comprehensive policy may be more expensive upfront, it could actually work out as better value in the long term.
How much is vehicle recovery business insurance?
Given the fact that every vehicle recovery business will require a different mix of insurance types and coverage levels, it's impossible to give an average cost for vehicle recovery business insurance. Using a UK wide average would also not be very helpful as your own unique factors would mean your business's quote could be wildly different.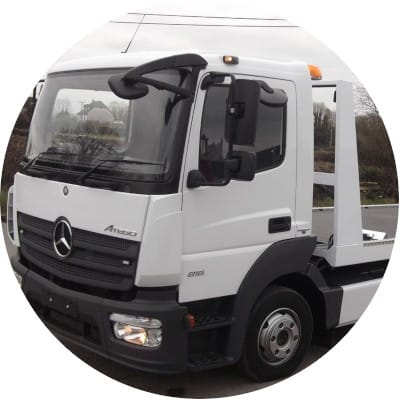 In addition, insurance providers will take a range of risk factors into account when calculating their premiums, many of which are unique to your business. For instance, they will consider:
The size of your business and operations
The business's location, and the accident and crime rates for that location
The number of people you employ
The types of insurance you choose to add to your policy
Details of your employees driving history
Your level of coverage
Any add-ons you may choose
How can I lower the cost of recovery truck insurance?
If you're worried about hefty premiums for your recovery insurance there are a number of things you can do that could help lower the cost:
Only choosing to insure your business against those risks that the business is likely to encounter. For instance, there's no point including European Cover if you only ever operate in the UK.
Ensuring that all named drivers on your Road Risk cover are at least 25 years old and have clean driving records.
Improving security by investing in site alarms, CCTV and high-security gates for your business premises, or vehicle immobilisers for any recovery trucks you own.
Paying for your recovery insurance on an annual basis rather than monthly.
Transferring your personal no claims bonus to your traders policy – not all insurers will let you do this but it's worth asking.
Agreeing to a higher voluntary excess.
What insurance will I need for a recovery truck?
A good recovery insurance policy will offer you the appropriate coverage you'll need to operate your recovery truck without fear of being left out of pocket, should an accident occur.
For a decent policy, you'll usually need to check it covers you for the following:
Cover for third party vehicles in your care
Insurance for machinery, tools and contents stored in your recovery vehicle
Liability insurance for claims made against you by third parties
Coverage of recovered vehicles in transit
Recovery operators are operating in a role that exposes them to risks other road users will not regularly experience. 
What is the criteria for recovery insurance?
Many insurers will set their own criteria for their recovery insurance policies. Common criteria for recovery insurance usually included:
A minimum and maximum age bracket for all your drivers.
Your drivers do not have any driving offences 
You haven't had a previous recovery insurance cancelled
The best way of confirming this is to check directly with your insurer.
Reasons your motor trade insurance may be cancelled
Taking out a relevant insurance policy for your recovery business can sometimes feel tedious. However having the right cover in place however is paramount for you to get on with the things that really matter to your business, so you'll want to be aware of the things that could potentially void or cancel your cover.
Here is a quick guide to some of the key things you should be checking your motor trade insurance doesn't cancel:
Not covering your vehicles for personal use
This can be a major issue if you occasionally use work vehicles from your fleet without the proper coverage. Getting into an accident without the appropriate personal use coverage can void your motor trade insurance. You must always ensure you have a separate Social, domestic, and pleasure insurance policy (SPD) in place for the personal use of a work vehicle.
Give all up to date and relevant information about your business and income sources
Many people are surprised to find out that not declaring all your income sources or most up to date information about your occupation can in fact invalidate your motor trade insurance. Common examples include not updating your insurer when you move from a part-time motor trader to a full-time motor trader. If you are honest with the information you give as well as keeping your insurer updated with any changes, you will be able to rest easy knowing you will be properly insured.
 You failed to disclose all relevant convictions and court judgments
Not being honest about any requested information of past convictions may put your motor trade insurance policy in jeopardy. Non-disclosures are a common cause of invalidation for many insurance polices, not just those designed for the motor trade. Failing to disclose relevant court judgements can also result in your insurance policy being made void. Having a voided insurance policy can make things difficult when there is an accident or cost which you would otherwise have made a claim for. It can also make finding future cover considerably more difficult. As a result, it is strongly advised that all relevant information is disclosed when requested by your insurer.
Making modifications to company vehicles without updating them
Not keeping your insurer up to date with any vehicle modifications in your fleet can also put your insurance policy up for cancelation by the insurer. This is because modifications can change the risk profile of your vehicles so insurers will need to take this into account for your premiums. Some modifications may also be prohibited by your insurance company, for example tinted windows and noisy exhausts.
Other reasons your motor trade insurance policy may be cancelled can include not keeping up to date with your payments, failing to disclose where your fleet vehicles are parked when not in use, and allowing non insured drivers access to company vehicles. The best way of ensuring you do not suffer a voiding or cancelation of your insurance is to comply with the requests of your insurer and to keep note of any requested updates should your business circumstances train.
Can Quotezone.co.uk help me get cheaper recovery vehicle insurance?
At Quotezone.co.uk, we are insurance comparison experts. We help motorists and businesses find cheaper insurance by connecting them to quotes from a large panel of UK based specialist providers. This increases your chances of finding the cheapest recovery insurance policies, as you will have a greater selection of quotes to compare simply by filling in one quick form. By filling in a quick form with your fleet details we can offer you quotes from top UK based insurance providers so you can start comparing in moments.
Motor Trade Insurance Comparison