Compare vehicle transportation insurance quotes now
Cheap Vehicle Transportation Insurance
Quotes from UK insurance providers

One short form – save time & money
Policies and deals from industry leading insurance providers, including


















---
Looking for cheaper insurance?
Secure & Encrypted
We guarantee your confidence when shopping online by following the latest internet security standards.
Over three million users
Join our ever-growing list of satisfied customers today.
You could save time and money
Get your quotes by filling in one simple form, compare prices, and start saving.
Independent and unbiased service
We aren't owned by or have any investment from any insurance company.
What people have to say about us
Quick and easy to use and great results
4.93/5 from 14 customer reviews
Vehicle transportation insurance
---
Moving cars, motorbikes or other vehicles from place to place isn't always as simple as it sounds. Accidents happen and when they do, it's comforting to know that you've got the right insurance cover in place to give you the help you need.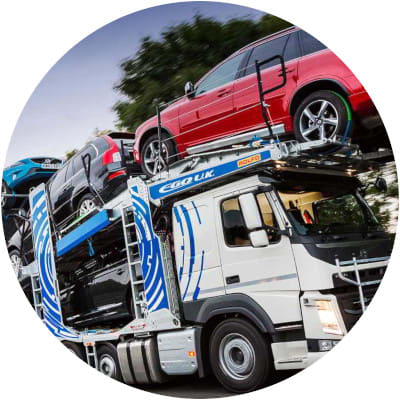 What is vehicle transportation insurance?
It's a type of motor trade policy aimed at anyone in the vehicle transportation industry. It protects your business from financial loss if something goes wrong and you need to make a claim.
Policies can also cover the cost of compensation and legal fees if someone takes you to court.
Without suitable vehicle transport insurance you'd usually be expected to meet these costs yourself.
Do I need vehicle transport insurance?
Whether you run a fleet of transporters or work from home as a part-time motor trade professional, having the right cover is essential and can protect your business from everyday risks such as damage to goods.
Depending on the nature of your business, you may also need certain types of insurance by law – such as road risk or employers' liability.
What risks are covered by car transport insurance?
Like other types of business insurance, you'll be able to tailor your policy to suit your business.
However, it's important that you double check any conditions and exclusions when you're taking out a new insurance policy because not all policies are the same. Even if providers use the same terms, they might not include the same things as standard.
Features to think about when you look for a policy include:
Road risk, which will insure you to drive cars that don't belong to you. It doesn't matter how short the distance is, if you're driving vehicles that belong to someone else you need road risk insurance by law. So even if you're only moving a customer's car onto a vehicle transporter or container you'll need this cover.
Loading and unloading cover, which can insure vehicles as they are being moved.
Vehicle transportation liability insurance – there are several different types of liability policies you can choose from. For instance, public liability insurance can cover your legal fees and compensation pay-out if a member of the public makes a claim against you. You can also get employers' liability cover which meets costs if a staff member becomes ill or is injured through work.
Overseas insurance – covers you while you are outside of the UK.
Goods in transit cover – sometimes called freight liability cover, this can pay out for any damage done to the vehicles you're transporting.
Car storage insurance – protects any vehicles you store.
Business premises – protect your premises from insured events like fire, flood and vandalism. It's also worth thinking about contents cover for office items like computers and printers too.
Business interruption insurance – this covers lost income if your business is forced to close because of an event out of your control (like a fire).
Own goods – pays to replace items belonging to your business that have been stolen, damaged or destroyed. Items will vary by insurer but could include things like ropes, webbing straps, trailer curtains and tarpaulin.
Personal items – covers any personal belongings owned by the driver.
What level of car transporter insurance do I need?
If you need road risk and employers' liability there are certain levels you'll need by law:
Road risk – you must have third party only at the very least. For more protection you can choose to opt for third party, fire and theft or comprehensive cover instead.
Employers' liability – you'll need a minimum of £5,000,000 worth of cover. Any businesses that need it but don't have it face a £2,500 fine for each day they go without it.
In most other cases, you'll be able to agree the amount of cover you need with your insurer – known as the 'sum insured' or 'level of indemnity'.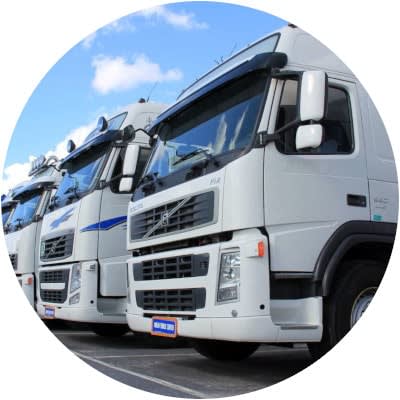 If you're not sure about how much cover you need it's worth bearing in mind that insurers often have their own minimum indemnity levels, which should offer you a good level of protection. For example, the indemnity level for public liability is often set at £10,000,000.
How can I cut the cost of vehicle transport insurance?
The cost of your policy will depend on a number of factors – like how big your business is and the type of cover you need.
While it's important to make sure you're covered for the genuine risks your business faces, you can help lower costs by:
Only choosing the types of cover your business actually needs
Keeping your transporter vehicle and goods in transit as secure as possible
Securing any premises you have in order to avoid the risk of theft or vandalism
Ensuring named drivers are over 25 and have clean driving records
Paying for your vehicle transport insurance on an annual basis rather than monthly
Agreeing to a higher voluntary excess.
Motor Trade Insurance Comparison