Compare PCO insurance quotes now
Cheap PCO Insurance
Quotes from UK insurance providers

One short form – save time & money
Policies and deals from industry leading insurance providers, including





























---
What people have to say about us
Extremely quick and easy – really impressed. Already told family and friends about the site.
Very good service. Would use again
4.93/5 from 14 customer reviews
London PCO Insurance
---
If you're on the road to becoming a London taxi driver but haven't mastered 'The Knowledge' yet you may or may not have heard of the PCO – the Public Carriage Office.
If you're a seasoned London cabbie, though, you will almost certainly know that the PCO is the division of Transport for London responsible for licensing black taxis and minicabs in London.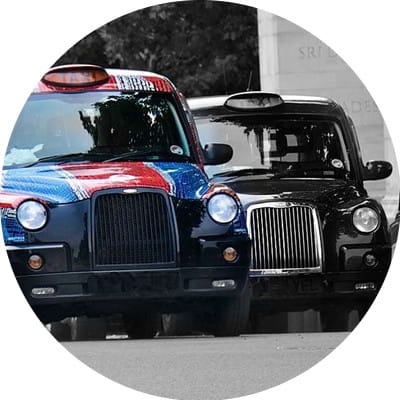 As such, PCO insurance refers to any London taxi insurance policy specifically intended to cover those metered taxis and minicabs that are licensed by the PCO to operate as 'hire or reward' vehicles in our nation's capital.
But what type of taxi should you choose if you're planning to become a London cabbie?
Black cab or minicab?
Whether you choose to drive one of London's iconic TX4 or TX5 black taxis (which are manufactured by the London Taxi Company in Coventry, and will cost you upwards of £28,000 for a new electric taxicab)…or you opt to drive a cheaper minicab (which also benefits from cheaper private hire taxi insurance), there is a fairly good chance your London PCO insurance will cost more than the equivalent private hire or public hire taxi insurance would cost in a smaller, less heavily built-up UK city.
That's why it's important to compare a range of insurance quotes when insuring a London taxi; that way you can be confident you're being offered the best PCO insurance policy at a (relatively) cheap price.
London PCO taxi insurance: Other ways to reduce your premiums
Whether you require London minicab insurance or public hire insurance for your black taxi, you should be able to find cheaper insurance if you compare quotes from a wide range of taxi insurers.
However, there are one or two (or three) other things you can do that might increase the likelihood that you'll find a cheap PCO insurance quote:
Drive safely: If you have a clean driving licence you could find that you're offered cheaper London taxi insurance quotes, so obeying speed limits and other rules of the road may well save you money in the long run. Safe drivers are also less likely to be involved in a road traffic accident, of course, which should also help reduce the cost of your PCO insurance.
Service your vehicle regularly: Another way to reduce the risk of road traffic accidents, and thereby lower the cost of your London taxi insurance, is to ensure your black cab or minicab is serviced regularly, which can mitigate the risk of an accident caused by mechanical failure.
Switch insurance providers frequently: As with ordinary, run-of-the-mill cheap car insurance, renewal quotes for London PCO taxi insurance are sometimes more expensive than taking out a new policy with a different provider. That's why London taxi drivers can often save money on their PCO car insurance policy if they are prepared to switch insurance providers each year.
Still have burning questions you need answering before you're ready to insure your London taxi? There's a very good chance we've covered them in 'The Knowledge' section below.
How much does PCO insurance cost, on average?
PCO insurance actually covers two different types of taxi insurance policy: London public hire taxi insurance (also known as black cab insurance), and London private hire taxi insurance (also known as minicab insurance).
Public hire generally costs more than private hire, but there are also a wide range of other variables that go into calculating the cost of your taxi insurance.
For instance, if you are able to park your black cab or minicab on a private driveway when you're off duty you will likely be offered cheaper PCO insurance than if you are obliged to park the vehicle on the side of the road on a busy London street. No surprises there.
Details about your driving history, how long you've held your taxi licence, and the make, model and age of your London taxi will also factor into your insurance calculation.
So asking how much PCO insurance costs is a little like asking 'how long is a piece of string'…the answer in both cases is, 'it depends'.
The only thing you can be sure of before you compare London PCO insurance quotes is that you'll pay more for this type of taxi cover than you would for ordinary car insurance, because London cabbies usually spend more time on the road and drive significantly more miles than ordinary drivers, which increases the risk that the vehicle might be involved in a road traffic incident.
Do any taxi insurers offer PCO insurance for drivers under the age of 25?
The minimum age requirement for most taxi insurance policies is 25, whether you're planning to drive in London or another UK city.
Many insurers won't offer a driver a quote for London PCO insurance if they are under this age limit, but there are a few specialist insurers that may be willing to insure a London taxi if the driver is 23 or 24, although the cost of that insurance could prove be astronomical – as much as £4,000 or £5,000 a year in some cases.
How many passengers can travel in my taxi if I have PCO insurance?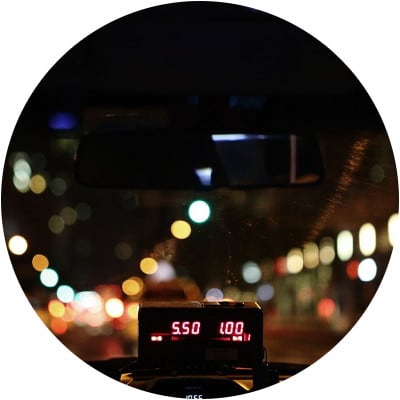 It is the vehicle itself (and its corresponding taxicab or PHV licence), rather than your insurance policy, that will determine the maximum number of passengers you can carry without invalidating your taxi insurance.
Most London black cabs are licensed to carry five passengers, while PHV minicabs are licensed to carry up to eight passengers, depending on whether you drive a saloon taxi, an SUV or a people carrier.
Does my London taxi need to be wheelchair-accessible?
If the Public Carriage Office has issued you with a public hire taxi licence then your taxicab needs to be wheelchair accessible – if it isn't you could incur a £1,000 fine and risk losing your taxi licence.
If the PCO has issued you with a private hire vehicle licence, on the other hand, then whether or not your minicab needs to be wheelchair-accessible will depend on the type of vehicle you drive. A list of the private hire vehicles that the PCO has designated as wheelchair-accessible is available from the TfL website.
It is also worth pointing out that London PCO taxi drivers are not allowed to refuse to carry a passenger's assistance dog, irrespective of which type of PCO taxi licence they hold.
Do London taxis have to have public liability insurance?
While it is not a legal requirement that London taxi drivers and minicab drivers take out public liability insurance, many choose to do so because it covers them if something happens to a passenger or their belongings during the course of a journey.
If your London PCO policy doesn't include public liability cover as standard you should be able to add it. Alternatively you can take out a standalone public liability insurance policy.
What level of cover is available with London PCO insurance?
When you come to insure your London taxicab or minicab you will have three levels of cover to choose from, similar to those available when insuring a car:
Third party taxi insurance
Third party, fire and theft
Fully comprehensive taxi insurance
As the name suggests, "fully comp" taxi insurance provides the highest level of cover for London taxi drivers, but is typically the most expensive too.
By contrast, third party PCO insurance is the minimum level of cover required by law, and for that reason is often the cheapest level of insurance for your black cab or minicab.
What are the typical exclusions with a PCO taxi insurance policy?
Most London PCO insurance policies will exclude the following:
The black cab or minicab being driven by someone other than the authorised taxi driver(s)
The vehicle being driven by someone under the age of 25, unless otherwise stated in the policy documents
Accidents that occur while the taxi driver is under the influence of alcohol or drugs
A London cabbie operating outside of the region covered in their insurance policy
A London taxicab or minicab that has been stolen as a direct result of the owner's negligence, for example if the keys were left inside
Taxi Insurance Comparison