Compare washing machine insurance quotes now
Cheap Washing Machine Insurance
Quotes from UK insurance providers

One short form – save time & money
Looking for cheaper insurance?
Secure & Encrypted
We guarantee your confidence when shopping online by following the latest internet security standards.
Over three million users
Join our ever-growing list of satisfied customers today.
You could save time and money
Get your quotes by filling in one simple form, compare prices, and start saving.
Independent and unbiased service
We aren't owned by or have any investment from any insurance company.
What people have to say about us
First insurance I obtained. Good quotes and easy to distinguish which policy might be best for me ie with or without black box etc
Thank you this is best one
4.75/5 from 2915 customer reviews
Washing Machine Insurance
---
Compare washing machine insurance now
Whether you own a washer dryer or a regular washing machine, and whether your kitchen appliance is a Hotpoint or a Whirlpool, a Bosch or a Samsung, an Indesit or a Miele, dirty laundry will quickly pile up if your home appliance kicks the bucket.
That's why it might be a wise move to take out domestic appliance insurance for your washing machine… and wiser still to compare the best washing machine insurance quotes from specialist insurance providers before deciding whom to use.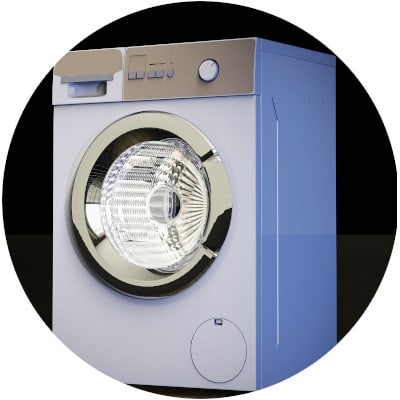 Of course, if you bought your home appliance within the last year it is likely still covered by your manufacturer's washing machine warranty, in which case you can sleep (and clean) easy.
If your appliance is a little older, though, and you didn't take out an extended washing machine warranty when you bought it, then you might want to consider getting a quote for a new washing machine insurance policy now.
How do I know if my washing machine is still under warranty?
While washing machine manufacturers offer a range of standard warranty periods, at the bare minimum each will usually offer a one year warranty for new washing machines.
Beyond that minimum period, Miele, Neff and Samsung all offer 2 years as standard on their washing machine warranties and washer dryer warranties, while Bosch and AEG both offer to extend their standard one-year washing machine cover to two years, free of charge, if the customer registers their appliance online.
Hotpoint's washing machines come with its standard one year domestic appliance insurance, while Whirlpool offers to insure washing machine parts for five years, at no additional cost, on top of its standard one year washing machine warranty.
Washing machine insurance: Is it worth it?
That largely depends on the specific kitchen appliance you have bought, how often you use it, and your own personal risk appetite.
If you purchased a fairly basic washing machine at a bargain basement price (£100 or £120, for instance), you only use it once a fortnight, and you are not remotely risk averse, then you might decide that it isn't worth paying £4 or £5 a month to insure your cheap washing machine.
On the other hand, if you own a very high-end washer dryer that you paid over £2,000 for, and you use that home appliance almost daily, then you might decide that you would like to take out the best washing machine insurance you can find, no matter what level of risk appetite you have.
Will my washing machine be covered by my contents insurance?
If you already have contents insurance then there is a good possibility your kitchen appliance will already be covered against a range of eventualities that could damage or destroy the machine, such as a kitchen fire or a flood.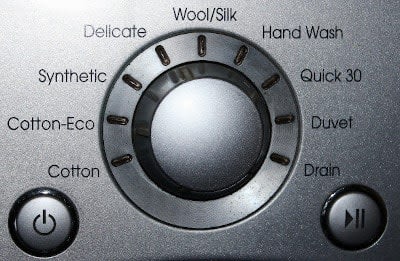 However, most home insurance policies do not cover white goods against normal wear and tear or accidental damage, which means if your domestic appliance simply breaks down you likely won't be covered by that type of policy.
Do I need two insurance policies if I have a separate washing machine and tumble dryer?
If your washing machine and tumble dryer are not integrated (meaning you have two separate machines), then you can either take out a separate kitchen appliance warranty for each one (or, if one machine is considerably more expensive than the other you may just want to insure that one appliance by, for instance, taking out standalone washing machine insurance).
If you do plan to insure your washing machine AND your tumble dryer, though, it could prove more cost effective to take out multi-domestic appliance insurance, which can be used to insure a range of kitchen appliances, including dishwashers, fridges, freezers, and of course washing machines.