Secured Loans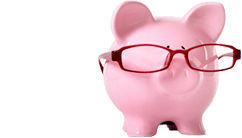 If you're a homeowner or landlord you might be able to use that asset as security when you're taking out a loan. This type of 'secured loan' can often enable you to borrow a higher amount than an unsecured loan might offer, specifically because the asset you're providing as security will mean your loan company is taking less of a risk by lending to you.
Compare Secured Loans from UK lenders
---
There are likely to be hundreds of different lenders in that UK that might be willing to offer you a secured loan, so it's important that you shop around by comparing secured loan providers before you sign on that dotted line. You can start that loan comparison process by checking out some of the secured loan company above in order to confirm how much they might be willing to lend you and the interest rate they might be able to offer.
How much can I borrow when I'm taking out a secured loan?
That will depend on a number of different factors, including:
The value of the asset you're offering as security against your secured loan
Your gross income
Your typical expenses and outgoings
Your credit history
Your occupation
Whether or not you have other outstanding loans or credit card balances, and the total size of those other debts.
The range of variables your secured loan provider will take into consideration makes it impossible to be sure how much you'll be able to borrow when you're taking out a secured loan, but it is fair to say that this type of loan will usually provide you with a larger loan amount than an unsecured personal loan might offer.
Can I take out a secured homeowner loan if I have an existing mortgage?
Yes, it is often possible to take out a secured homeowner loan against your home, sometimes referred to as a 'second charge' or 'second mortgage'.
However, it's important to bear in mind that most lenders will only offer you a secured loan against the equity you have in your home, which is the proportion of the property you already own outright.
Secured loan providers will also analyse your income and expenditure in order to confirm that you're likely to be able to afford the cost of repaying two secured loans on your home simultaneously. It's vital that you analyse your finances to confirm that you really will be able to afford both repayments (as as well as any other outgoings you might have), and it's advisable to add enough buffer to your affordability calculations to allow for the fact that interest rates might rise eventually if you aren't on a fixed rate mortgage.
How can I find the best secured loan rates?
Each lender has its own lending criteria, so in order to find the best secured loan rates it's vital that you shop around to compare secured loans from a range of different loan companies. Going with your existing bank or mortgage provider might seem like the best option because those companies already know you, but taking this approach does run the risk of overlooking a direct loan provider that might be in a position to offer you a cheaper interest rate on your secured loan.
Can I take out a secured loan if I have a bad credit history?
Yes, there are secured loan companies that specifically specialise in offering secured loans for bad credit, and the fact that your loan will be secured against your home (or some other equally valuable asset that your lender is willing to accept as collateral) sometimes does increase the likelihood that you'll be offered a loan.
Of course, it's important to bear in mind that secured loans for bad credit often impose much higher interest rates than those for borrowers with better credit histories, so it's even more important to shop around by comparing secured loan providers if you do have a history of missed payments, defaults or CCJs.