Compare thatched roof home insurance now
Cheap Thatched Roof Home Insurance
Quotes from UK insurance providers

One short form – save time & money
Policies and deals from industry leading insurance providers, including












---
Looking for cheaper insurance?
Secure & Encrypted
We guarantee your confidence when shopping online by following the latest internet security standards.
Over three million users
Join our ever-growing list of satisfied customers today.
You could save time and money
Get your quotes by filling in one simple form, compare prices, and start saving.
Independent and unbiased service
We aren't owned by or have any investment from any insurance company.
What people have to say about us
First insurance I obtained. Good quotes and easy to distinguish which policy might be best for me ie with or without black box etc
Thank you this is best one
4.75/5 from 2915 customer reviews
Compare home insurance policies for a house with a thatched roof
---
There can be few homes as beautiful or as quintessentially British as one with a thatched roof… but unfortunately they can also cost considerably more to insure because they are classed as 'non-standard'.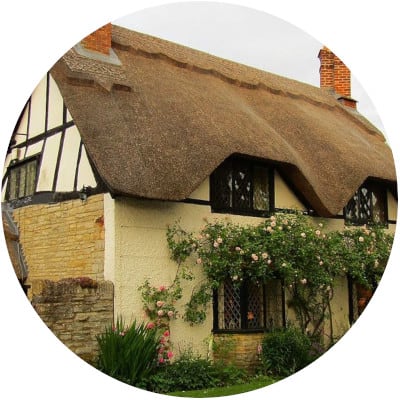 While thatch is a traditional roofing material that has been used for centuries througout the British countryside, thatching is no longer a standard construction method and can often prove costly to repair or replace.
In addition, underwriters may find it more difficult to assess the risk profile of a home with a thatched roof, which can sometimes mean insurance companies err on the side of caution by quoting a higher premium (known as 'premium loading').
That's why it's so important that you use an unbiased insurance comparison website like Quotezone.co.uk if you own a thatched property, which can help you find suitable cover for your home at a price that won't bring down the house.
Thatched-roof property insurance: a guide to finding the right cover
Why do thatched roofs cost more to insure?
There are three main reasons home insurance can cost more if your property has a thatched roof:
This type of roof can sometimes cost considerably more to repair or replace, since it involves a heritage construction method that requires a skilled craftsperson and there are now relatively few professional thatchers working in the UK
Many insurance underwriters view thatch as a significant fire risk, which means this construction method runs the risk of higher insurance claims
A significant number of thatched properties are also listed buildings, and insurance for a listed building is usually more expensive
Is it true that a thatched roof is a major fire hazard for homeowners?
A property's thatched roof isn't necessarily any more likely to catch fire, but if a fire does break out the burning straw has the potential to be much destructive to the rest of the property than a tile or slate roof would be.
Both insurance claims data and fire incident data from the UK's Fire and Rescue Services indicates that the most common cause of thatched roof fires is the use of open fires, wood-burning stoves or solid fuel appliances, so if you live in a house with a thatched roof (or you are a buy-to-let landlord for this type of property) you can reduce the risk of fire by ensuring the chimney is swept on a regular basis or removing solid fuel appliances.
As an added bonus, removing these additional fire hazards could result in cheaper home insurance or landlord insurance, because most insurance providers will ask whether or not you have them when you inform them that your property has a thatched roof.
How much does thatched house insurance cost?
Unfortunately there's no way to be sure how much thatch insurance is going to cost for your property until you get quotes from a number of home insurance companies, because a wide range of variables beyond the actual thatch will be used to calculate the premiums, and each provider will also give each of those variables a slightly different weighting.
However, it is fair to say that thatched house insurance may well cost you a little more than you'd pay if your home had a standard slate or tile roof… and the policy could cost you a lot more if your home also has an open fire or you use a wood-burning stove or solid fuel appliance.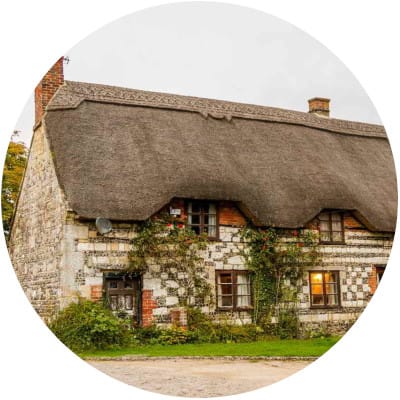 Are there things that might invalidate a thatched cottage insurance policy?
If you have informed your insurance provider that you don't use a wood-burning stove or solid fuel appliance but later install one in your property your insurance provider may refuse to pay out for any subsequent fire damage.
Failing to declare that the cottage or house has an open fire could also invalidate your insurance policy, while incorrectly measuring the depth of your roof's thatch could even cause issues with some providers.
It's also worth mentioning that some thatched-roof home insurance policies may impose additional obligations on policyholders that you wouldn't normally have to meet if your property had a standard roof, such as having the property's electrical wiring checked and certified by a professional electrician every two years, or having the chimney professionally swept twice a year.
For that reason it's vital that you review your policy booklet when you take out a new thatched-roof property insurance policy, which will make it less likely that you'll accidentally invalidate your thatch insurance by overlooking one of your obligations.
Non Standard Home Insurance Comparison