Taxi Fleet Insurance
Cheap Taxi Fleet Insurance Policies
Quotes from UK insurance providers

One short form – save time & money
Policies and deals from industry leading insurance providers, including

















---
What people have to say about us
Thank you this is best one
Very easy website to use, vast amount of quotes to choose from and lots of information about each policy. Good prices as well.
4.75/5 from 2913 customer reviews
Taxi Fleet Insurance – Find a Cheap Policy for Your Fleet of Taxis
---
How many taxis you have in your fleet, how old those taxis are, their make and model, whether they are private hire or public hire, the driving record of your taxi drivers, whether they're based in London, Manchester, Glasgow or Gloucester – these factors can all affect your taxi fleet insurance premium.
By comparing taxi fleet insurance providers online you can ensure that your policy is tailored to your own unique fleet of black cabs, minicabs, SUVs or minibuses, as well as your specific business requirements, meaning you aren't paying for anything you don't need.
Just as importantly, our taxi fleet insurance comparison service can offer you a range of quotes from specialist taxi insurance brokers whether you're operating in a large metropolitan area like Birmingham or a smaller town like Brighton, which makes it much more likely you will find a cheap quote for your commercial taxi fleet insurance.
And there is also a time saving to be had; we know that as the owner or manager of a taxi business you don't have a lot of time to shop around, so why not let us do the hard work for you? With Quotezone.co.uk's online comparison service you can get a range of competitive taxi fleet insurance quotes without the hassle and expense of calling the insurance providers: they call you.
Whether you need minibus taxi fleet insurance or mini cab taxi fleet insurance, and whether you're operating in Cardiff or Cambridge, Leeds or Liverpool, our multi-car taxi insurance comparison is totally free to use, and we are impartial and independent as we aren't owned by nor do we have any investment from any insurance companies.
Quotezone.co.uk and all of our panel members are also authorised and regulated by the Financial Conduct Authority.
Other ways you can reduce the cost of your taxi fleet insurance
Whether you have mini cabs, taxicabs, people carriers or taxibuses, taxi insurance is usually more expensive than insuring an ordinary car, SUV or minibus, because taxis are generally on the road much more than other vehicles and therefore have a greater risk of being involved in an accident at some point.
Needless to say, insuring a fleet of taxis is more expensive still, because the insurance premium will obviously be higher when more than one taxi is covered.
Still, taking out one single taxi insurance policy for your whole fleet of taxis is usually cheaper than insuring taxis individually.
There are also a couple of other things you can do as the owner of a taxi business that could help to reduce the cost of your taxi fleet cover.
Choose your vehicles wisely: Some taxis are more expensive to insure than others, with imported cars and other high-end vehicles often having higher insurance premiums. By filling your taxi fleet with cheaper (but reliable) cars or taxibuses, you could not only reduce the overall cost of your vehicles, but could also find that your minicab or minibus fleet insurance quotes are cheaper too.
Service your vehicles regularly: Whether or not you choose to add breakdown cover to your taxi fleet insurance policy, servicing your taxis regularly could mitigate the risk of accidents caused by mechanical fault. Fewer accidents could mean lower insurance premiums when it's time to renew your taxi fleet policy, so servicing your taxis regularly really could pay off in the long run.
Hire experienced drivers with clean driving records: Younger, more inexperienced taxi drivers can increase the cost of taxi fleet cover, and some insurance companies won't insure taxi drivers at all if they are under the age of 25, while others have a minimum age limit of 23. Taxi drivers with clean driving records are usually cheaper to insure than those with points on their licence, too. By hiring drivers with clean driving records, and ensuring they meet the insurance company's age requirements, owners of taxi businesses could be offered cheaper fleet taxi insurance quotes.
Install speed limiters in your fleet of taxis: Insurance companies have proven time and again that speed limiters can significantly reduce accident rates, so installing limiters in your fleet of minicabs or minibus taxis could result in cheaper taxi fleet insurance prices. Speed limiters are still fairly uncommon in taxis in the UK, and some cabbies may not be entirely happy about the prospect of having a limiter fitted to their car, but if it lowers the cost of your fleet insurance quotes it just might be worth considering.
Consider private hire instead of public hire taxi fleet insurance: Public hire taxicabs, such as London's iconic black taxis, can be hailed on the street, instead of having to be pre-booked by customers over the phone, online or through an app. That means public hire taxis often spend the majority of their time in the centre of large cities and towns, where they are more likely to be hailed by customers. Since taxi fleet insurance companies have found that the risk of being involved in an accident is higher in heavily built-up towns and cities, public hire taxi fleet insurance

is often more costly than

private hire taxi fleet cover

.
Ready to get a quote? Compare taxi fleet insurance now
Still have questions about taxi fleet insurance? There is a very good chance they are 'covered' below.
What is taxi fleet insurance?
If you own more than one taxi you can, of course, choose to take out separate taxi insurance policies for each vehicle. However, many taxi fleet operators have found that they are offered a cheaper range of insurance quotes if they take out one single fleet policy to cover all the taxicabs, SUVs, minicabs and minibuses in their fleet.
Do I need fleet insurance if I own multiple taxis?
Every taxi operating as a commercial 'hire and reward' vehicle must have dedicated taxi insurance – ordinary, run-of-the-mill car insurance just won't cut it.
However, as mentioned above, you can choose to insure your taxis individually, or as part of a fleet insurance policy – which option is best for you will depend on a wide range of variables, so it is always wise to compare a number of taxi insurance quotes for your fleet before signing on the dotted line.
Should I take out fleet taxi insurance if I have 2 cars?
If you own or run a taxi business with at least two cars then you could qualify for fleet cover, but you are more likely to see cost savings from this kind of insurance policy when you have a larger number of vehicles.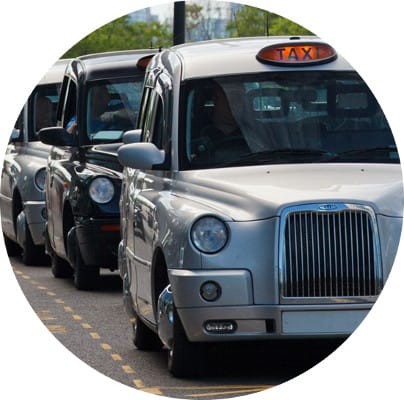 Every insurance provider is different, though, so if you need taxi fleet insurance for two cars then it would make sense to compare quotes for fleet cover and see how they fare against the cost of insuring a taxi individually.
How much will it cost to insure a fleet of taxis?
There is no straightforward answer to that question, because there is such a wide range of variables that can impact the cost of fleet insurance, and every insurance company also uses slightly different calculations to determine its insurance premiums.
The best plan is to compare taxi fleet cover – and luckily we have just the right comparison tool to help you do that.
Can I get an online insurance quote for a taxi fleet?
Whether you have a fleet of minicabs, minibuses or black cabs, our fleet insurance comparison system will enable you to access a range of insurance quotes by filling in one short online form.
Each of the insurance providers will then phone you immediately to offer you their very best price, and you can decide from there which insurance company to go with.
How does a taxi fleet insurance policy differ from an ordinary taxi insurance policy?
The most obvious difference is that taxi fleet insurance covers multiple taxis, while standard taxi insurance only covers one vehicle.
However, there may be other differences too, depending on the policy you choose. For instance, some fleet insurance for taxis might include employers' liability insurance or cover for your taxi office, either as standard or as optional extras, which wouldn't normally be required when taking out taxi insurance for a single vehicle.
Does fleet insurance cover the taxi office in addition to the vehicles?
That will depend on the exact insurance policy you decide to go with – some specialist taxi fleet insurance policies might cover the taxi office, while others may give you the option to add that cover as an optional extra.
Does taxi fleet insurance cover include public liability insurance?
Given the fact that taxis are carrying passengers and their belongings as part of a commercial 'hire and reward' transaction, it would be advisable for taxi fleet owners to include public liability cover as part of their fleet insurance.
Most insurance companies don't include public liability as standard, but it can usually be added to the policy as an optional extra.
Can I get taxi fleet insurance if I have minibuses?
Yes, most taxi fleet insurance specialists will be able to offer you a quote for minibus taxi fleet insurance if you have taxibuses. The insurance premiums may be higher for minibuses than for some other types of vehicles, though, so it makes sense to compare a range of policies in order to make sure you find the best minibus fleet insurance policy at the cheapest price.
Is fleet taxi insurance cheaper than insuring each taxi separately?
If you need to insure a small fleet of taxis (two or three vehicles) you may not see a significant cost saving with taxi fleet insurance – and in some cases it could work out to be more expensive than individual insurance policies, particularly if you add on optional extras like employers' liability or cover for your taxi base.
For larger taxi fleets, though, fleet cover will usually be cheaper than insuring each minicab, black cab or minibus separately.
Why not compare insurance quotes now to find out how much you could save?
Can I take out taxi fleet insurance if I am under 25?
Many taxi fleet insurance companies have a minimum age requirement of 25, but there are some that will insure taxi drivers that are only 23 or 24.
If you own a fleet of taxis and you are under the age of 25 the best plan is to use an online comparison service to check which insurance companies are able to offer you an insurance quote.
Can I get taxi fleet insurance quotes if I have a new business?
Many insurance providers that specialise in taxi businesses will prefer to see a trading history and insurance claims record, but if you have previously insured each taxi or minibus individually then some providers might be willing to factor in the No Claims Bonus from those individual policies when calculating your multi-vehicle taxi insurance quote.
The best plan of action is to compare policies online – insurance providers will then call you straightaway to discuss your particular situation.
What is the average cost of insurance cover for a taxi fleet?
Where your taxis operate (Edinburgh or Exeter? Newcastle or Newport?), whether they are minibuses, minicabs, black cabs or SUVs, whether you have a No Claims Bonus or you claimed on your taxi insurance just last week – these will all affect the cost of your insurance premiums, so there really is no average, typical cost when it comes to fleet cover for taxicabs.
The best plan is to compare policies for your own particular fleet – and as you probably already know by now, we are here to help you do just that.
How much will taxi fleet insurance cost for 3 vehicles?
The number of taxis in your fleet is only one variable the insurance company will consider; the location of those taxis, their make and model, the driving record of your taxi drivers, whether your taxi cars are public hire or private hire – these factors, and many others, will all play a role in determining what quotes you're offered.
Suffice to say, though, that you should certainly be able to compare a range of insurance quotes if you have a fleet of 3 taxis, no matter where you're based or what kind of vehicles you own – simply complete our one page form and we'll do the rest.
Why is it so expensive to insure a taxi fleet?
Taxis tend to spend more time on the road and drive significantly more miles than an ordinary car or SUV, which makes it more likely that the vehicle will be involved in a road traffic incident eventually.
Taxis also operate as commercial 'hire and reward' vehicles, which means they carry more risk of claims from third-parties (such as passengers) if an incident does occur.
Both of those factors make taxi insurance more expensive than regular, relatively cheap car insurance – and since more vehicles are covered it is always likely to be more expensive to insure a taxi fleet than an individual taxicab.
How can I get cheap taxi fleet insurance?
There are a number of things you can do to get cheaper quotes for your fleet taxi cover, some of which we have covered in greater detail above, but in short you can:
Opt for cheaper vehicles and avoid expensive imports
Keep your minicabs, black cabs or minibus taxis well maintained, and service them on a regular basis
Hire experienced taxi drivers with few points on their licence
Base your taxis in smaller, less heavily built-up areas
Reduce the risk of road accidents by installing speed limiters in your fleet of taxis
Is it classed as public hire if my fleet of taxis use taxi ranks?
Yes. Since a customer at a taxi rank has not pre-booked the taxi only black cabs and other licensed public hire taxis are allowed to use taxi ranks.
If your vehicles are covered by private hire taxi fleet insurance it is an offence for them to pick up passengers at taxi ranks.
Do I need public or private taxi insurance if I own a fleet?
That depends on the nature of your fleet – if you have black cabs that customers can hail on the street then you will need to sign up for public hire fleet insurance. If your fleet is comprised of minicabs and minibuses that customers book over the phone, online or through an app then you'll need private hire fleet insurance.
Will installing CCTV in my taxis reduce the cost of my taxi fleet insurance?
Possibly.
Clearly visible cameras in taxis can certainly serve as a deterrent for criminals that are planning to steal or vandalise the vehicle, while camera footage can also help reduce third-party claims for injury or damage during road accidents.
However, it is also important to bear in mind that in some areas the local authority that regulates private hire and public hire taxis may have a legal requirement that these vehicles be fitted with CCTV, even if doing so doesn't lower your insurance premium, so it is worth checking the rules in your own area.

How do I find a taxi fleet insurance broker?
Our panel members include both insurance brokers and insurance providers, so if you would like to work with a specialist insurance broker for your taxi fleet the best place to start is with our taxi fleet insurance comparison.
What are the typical exclusions on taxi fleet insurance?
Most multi-vehicle taxi insurance policies will not cover:
Use of the taxis by any unauthorised drivers
Taxi drivers under the age of 25 (or under 23, for one or two insurance companies)
Incidents that occur as the result of unsafe driving, such as driving under the influence of alcohol
The theft of one of your cabs if the keys have been left inside the vehicle
Operating one of the taxis outside of the region covered in the insurance policy
Many multi-taxi policies also won't include public liability, employers' liability or cover for the taxi office as standard, although these can usually be added as optional extras.
How many passengers can travel in a vehicle covered by taxi fleet insurance?
Insurance companies won't normally cover a taxi that is overcrowded, so the key is to limit the number of passengers in the vehicle to the safe number that taxi can carry.
Hackney Carriages (or black cabs, as they are more commonly known) can usually carry five passengers, while typical saloon-car minicabs can carry four.
People carriers or SUVs that are licensed taxis can carry as many as six or seven passengers, while minibus taxis (also known as taxibuses) may be licensed to carry eight or more people.
Taxi Insurance Comparison