Compare small business fleet insurance quotes now
Cheap Small Business Fleet Insurance
Quotes from UK insurance providers

One short form – save time & money
Policies and deals from industry leading insurance providers, including

































---
Looking for cheaper insurance?
Norton secured
Our quote form uses 128-bit SSL encryption for your peace of mind.
Over three million users
Join our ever-growing list of satisfied customers today.
You could save time and money
Get your quotes by filling in one simple form, compare prices, and start saving.
Independent and unbiased service
We aren't owned by or have any investment from any insurance company.
What people have to say about us
I am very pleased with the insurance deal you got me
Quick and easy to use and also very competitive
4.81/5 from 16 customer reviews
Small business fleet insurance
---
If you run a small business and own multiple vehicles that need to be insured each year it might be a wise idea to consider small business fleet insurance. Not only does this type of policy have the potential to save you a lot of valuable time on paperwork and admin, but economies of scale mean it could also save your small business a decent chunk of money.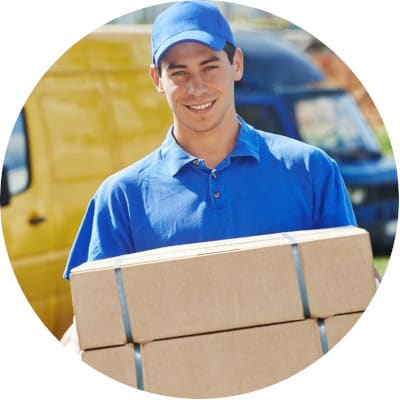 Compare small business fleet insurance now
What is small business fleet insurance?
It's a type of fleet insurance policy that is aimed at smaller businesses that own a relatively modest number of cars, vans or motorbikes.
Whereas standard fleet policies can serve the needs of large firms with dozens or even hundreds of cars, small fleet cover is tailored to meet the needs of startups or SMEs.
How many vehicles can I have on a fleet insurance small business policy?
This depends on the insurer as they all work to their own guidelines. Some insurers will class a fleet as anything more than two vehicles, but there are others that might set the minimum at four or five.
Maximums also vary, with some providers capping small fleets at five cars while others will insure up to 10 or even 15 vehicles.
Why should I choose small business fleet vehicle insurance?
Fleet insurance helps cut the amount of time you spend dealing with admin. With just one insurer to deal with, you'll only have to remember one renewal date and pay one premium.
Insurers also offer discounts for each additional car you add, so you could also save money. Generally, the more vehicles you have in your fleet, the greater the discount.
If you've only got two or three vehicles, it's worth comparing separate insurance quotes for each one just to check you're actually making a saving.
Can I add different vehicles onto one small business fleet insurance policy?
Yes, most providers will let you insure different types of vehicles under a single small business fleet insurance policy.
So, if your fleet includes cars, vans and minibuses, for instance, you can cover them all with a single multi-vehicle fleet policy.
If your fleet is made up of just one type of vehicle you can buy specific policies for that, for example van fleet or motorbike fleet insurance.
However, it's worth mentioning that if your fleet includes heavy goods vehicles you'll probably find that standard fleet insurance won't cover you. If that's the case, HGV fleet insurance should give you the protection you need.
What levels of cover are there?
There are three levels of cover to choose from:
Third party only (TPO) – this is the minimum amount of cover you need by law. It covers the cost of damage to other people, their vehicles and property. It doesn't cover any damage done to your own vehicle or belongings. This is sometimes the cheapest level of cover you can buy because it's the least comprehensive.
Third party, fire and theft (TPFT) – provides TPO cover and will also pay for repairs or replacements if your vehicles are damaged by fire or are stolen.
Comprehensive cover – gives you TPFT and also covers damage to your vehicles and property even if an accident is your own fault. This is typically the most expensive level of cover you can buy.
What other features can I add to my small business fleet car insurance?
You can add other types of insurance to your fleet policy so that it gives you even greater protection. Optional extras often include:
Breakdown cover – help get company cars back on the road quickly.
Goods in transit (GIT) – covers any goods in your vehicle that you're transporting.
Carriage of own goods – similar to GIT but covers items belonging to you (or the driver) for instance, tools or work equipment.
Hire and reward – if you transport people or goods in return for money (like a taxi or wedding car service) then you'll need this type of insurance.
Employers' liability – covers costs if a member of staff becomes ill or is injured because of work. You'll need this by law if you have any staff, even part-time or casual workers.
Public liability – pays legal fees and compensation if a member of the public is hurt or has their property damaged and blames your business.
Trailer insurance – covers you to tow a trailer.
How much does fleet insurance for small businesses cost?
Cost really depends on your specific business needs, and since no two firms are ever the same it's almost impossible to give an average.
To work out your premium, insurers will take a number of factors into account, for instance:
The number and types of vehicles in your fleet.
The level of cover you choose.
What optional extras you decide to add.
How old or experienced your drivers are.
How can I cut the cost of small business fleet insurance?
Fleet insurance often works out at great value but if you're looking to drive down cost even more, think about:
Paying for your policy on an annual basis rather than monthly.
Agreeing to a higher voluntary excess.
Only using drivers that are over the age of 25.
Making sure all drivers have clean driving records.
Storing vehicles in a locked garage or secure site, and installing additional security features such as engine immobilisers and CCTV.
Fleet Insurance Comparison