Luggage Cover
Cheap Luggage Insurance
Compare up to 30 providers

Access Cashback & Rewards

97% of reviewers recommend us
Search and compare cheap quotes from up to 30 UK travel insurance providers, including
---
Looking for cheaper insurance?
Search up to 30 different travel insurance providers
Quotezone increases your chance of finding a great deal by searching the market for you.
Buy online or by phone
Purchase your travel policy quickly and easily, monthly and annual payment options available.
You could save time and money
Get your quotes by filling in one simple form, compare prices, and start saving.
Over three million users
Join our ever-growing list of satisfied customers today.
Secure & Encrypted
We guarantee your confidence when shopping online by following the latest internet security standards.
Independent and unbiased service
We aren't owned by or have any investment from any insurance company.
What people have to say about us
First insurance I obtained. Good quotes and easy to distinguish which policy might be best for me ie with or without black box etc
Thank you this is best one
4.75/5 from 2915 customer reviews
Luggage Cover
---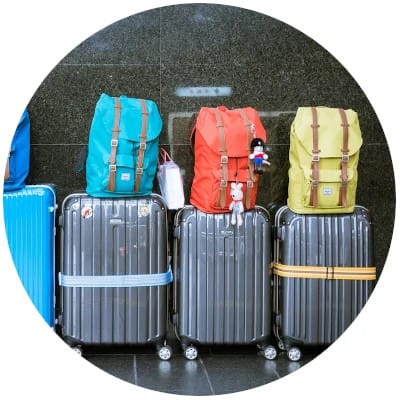 Lost or damaged luggage can get a well-planned holiday off to a very bad start, or bring a fantastic trip to a sorry end. But if you have the right baggage insurance in place you can rest assured that compensation and help will be at hand if your luggage goes awry.
Isn't luggage insurance included in my standard travel cover?
It depends on your policy – the best travel insurance policies will often include luggage cover as standard, but cheaper policies might not. In most cases, policies that don't include it will offer it as an add-on for a fee.
However, even those policies that do include baggage cover as standard might not give you enough protection for your belongings, particularly if you own a matching set of high-end designer suitcases. That's why it's vital to check your policy documents to ensure you do have enough luggage cover in place.
What exactly does luggage insurance cover?
Policies vary from one insurer to another, so it's wise to check any terms and conditions beforehand. On the whole, most insurers will cover you for:
Accidentally lost luggage – if your luggage decides to go it alone and doesn't arrive at your destination, you should tell the relevant body first – for example the airline you flew with, the train company you travelled with or your tour operator. Lost luggage often turns up after a few days but whoever 'lost' your luggage should cover the cost of necessities like toiletries.
Damaged luggage – if it's been lost in transit and turns up worse for wear, you can claim for a replacement.
Stolen luggage – you'll need to report the theft to police as soon as possible, usually within 24 hours. When you report the crime, make sure you take down the crime reference number (or equivalent) as your insurer will need this.
If an airline has lost or damaged my luggage shouldn't they provide compensation?
In short – yes, but airline policies vary, and their compensation amounts may be standardised, which could mean you might not receive the full value of your belongings. In many cases airlines may not offer as much compensation as your travel insurer would.
It's also worth noting that for an airline to consider luggage as lost, it has to be missing for a certain number of days (usually 21 days, but this can vary). If your baggage is still missing after the time limit, you can then make a claim through the airline, but not before.
With this in mind, it's often quicker and easier to claim for lost luggage through your travel insurance if you have a suitable policy in place.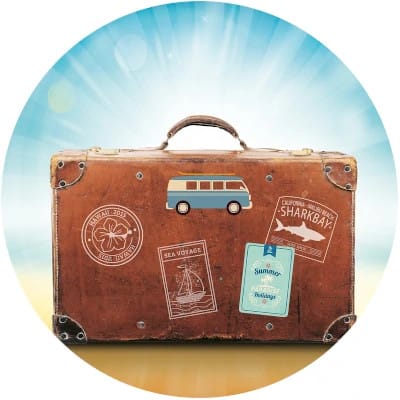 How much luggage insurance do I need?
The level of cover you choose should be enough to replace your luggage and its contents, but it's all too easy to underestimate what it's worth. In fact, a survey revealed that the average British traveller packs around £3,000 worth of holiday essentials into their suitcases.
If that sounds staggeringly high, think about each of the items you take. From clothes, several pairs of shoes, toiletries, make-up, electronic devices like e-books, phones and handheld games – it really can add up. In contrast to this, the amount of cover sometimes offered by a standard policy can amount to just a few hundred pounds.
So, if you want to be confident that your policy will cough up what you need, either search for a policy with a high enough level of cover (some go up to £10,000) or pay a little extra for your insurer to increase it.
Can I make a baggage delay claim?
As a general rule, travel insurance doesn't cover delayed luggage but you should be able to get compensation from the airline for essentials like a change of clothes.
What is a luggage cover excess?
The excess is the amount of money you need to pay towards a claim for it to proceed, so always make sure you're happy with the level set by your insurer.
The amount you pay in excess differs by provider – some will impose an excess as low as £25, but it could be as high as £250. You'll usually find that cheap luggage insurance policies have a high excess while more expensive policies could have a much lower one (and in some cases, no excess at all).
What is a single item limit?
Something else to be aware of is the 'single item limit' (sometimes called the single article limit). This is the maximum amount of money your insurer is willing to give you for any one item.
If you have very expensive jewellery (like an engagement ring) or a pricey phone, you'll need to ensure the single item limit is enough to cover a replacement. A typical single item limit on travel insurance policies might be £200 or £300, but as with the insurance excess it can vary considerably from one provider to the next.
If the single item limit on your luggage insurance policy isn't high enough to cover the cost of replacing your designer suitcases (or their valuable contents) you might have to ask your insurance provider to increase this limit, although you will have to pay a higher premium.
Are there any baggage insurance exclusions I need to know about?
Almost all travel insurance policies impose a range of exclusions, but they can vary from one provider to the next.
However, some of the more typical exclusions on a luggage insurance policy include:
Cash – insurers don't usually compensate you for cash left in luggage.
Unattended luggage – you're unlikely to receive any money for bags left in cars or hotel lobbies.
No evidence – if you're claiming for stolen luggage, you'll need a crime reference number from the police. Without evidence of a theft, your claim can't proceed.
Compare UK luggage insurance policies
When you're on holiday the last thing you want is for anything to go wrong, but if things don't work out the way you expect them to having the right travel insurance can be a lifeline. By comparing quotes from a range of providers you'll be more likely to find the right policy at the right price.
Travel Insurance Comparison