Compare UK Public Hire insurance quotes now
Cheap Uk Public Hire Insurance
Quotes from UK insurance providers

One short form – save time & money
Policies and deals from industry leading insurance providers, including


















---
What people have to say about us
Extremely quick and easy – really impressed. Already told family and friends about the site.
Very good service. Would use again
4.93/5 from 14 customer reviews
Compare Public Hire Taxi Insurance Quotes
---
Whether you refer to your vehicle as a black cab, a taxicab or a hackney carriage, the iconic black taxi is ubiquitous throughout London…and is increasingly common in a growing number of other towns and cities across Great Britain and Northern Ireland, too.
Most of those black cabs operate as 'public hire taxis', meaning they can be hailed on the street or at taxi ranks instead of having to be pre-booked by customers.
While this means public hire taxis offer taxi drivers more opportunities to pick up passengers, it also means these cabs require a specific type of taxicab insurance: public hire taxi insurance.
That's because insurance underwriters have found that the risk of being involved in an accident is significantly higher in heavily built-up areas, and public hire taxis often spend much more time in the centre of large cities and towns because it is there that they are most likely to be hailed by customers.
Needless to say, insurance firms factor that increased risk into the cost of insuring a black cab.
So whether you operate in Aberdeen or Aberystwyth, Liverpool or London, if you pick up passengers at taxi ranks or allow them to hail you down on the street then private hire insurance won't cover your vehicle – you have a legal obligation to take out public hire taxi insurance instead.
This type of insurance policy is usually more expensive than private hire insurance, so if you drive a black cab it's even more important that you compare public hire insurance quotes in order to find the best insurance policy at the cheapest price.
Compare public hire taxi insurance now
Cheap public hire taxi insurance: other ways to reduce your premiums
Comparing insurance quotes from a range of different providers each time your insurance is due for renewal is a critical first step when it comes to reducing your taxicab insurance premiums.
However, there are a few other things you can do to increase the likelihood that you will find cheaper black taxi insurance. Here are three, for starters.
Park your taxi off the road: Taxi insurance companies will consider where you plan to drive your taxi when they're calculating the premium for your public hire insurance, with the area's congestion levels, accident statistics and crime statistics all being factored into that calculation.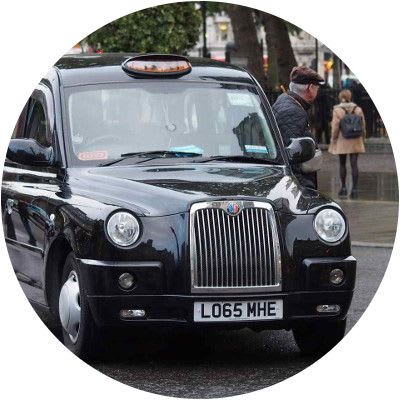 However, where you park your taxicab when you're not driving it can also have a significant impact on the cost of your public hire taxi insurance.
If you park your taxi off the road, for instance in a garage or on a private driveway, then you could find that you're offered cheaper black cab insurance quotes.
By contrast, parking your taxicab on the side of the road could result in higher insurance premiums, particularly if you live on a busy road in a heavily built-up city.
Service your black cab regularly: Most public hire insurance policies won't cover you if your taxi breaks down – for that you'd need to either take out dedicated breakdown cover, or else add that type of cover on to your policy as an optional extra.
But servicing your public hire taxicab on a regular basis could to help reduce the premiums you pay for public hire insurance in the future, whether or not you have breakdown cover, by mitigating the possibility that you are involved in an accident as a result of a mechanical fault.
Consider telematics insurance: Telematics insurance, or black box insurance, is a type of specialist insurance policy where a tracking device is installed in your public hire taxi in order to monitor your driving habits. While this type of insurance is less popular with taxi drivers, it could reduce the cost of your insurance premiums by as much as 20% so it's worth considering.
How much does public hire taxi insurance cost?
Insurance firms that specialise in public hire insurance use a vast range of variables in order to calculate a black cab driver's insurance premiums.
Where you operate as a taxi driver, where you park the taxi when you're not working, how long you've held your licence, whether you have points on your licence, the type of taxicab you drive, how old your vehicle is…these will all play a part in your insurance premium calculation, so it close to impossible to predict how much your own public hire insurance is going to cost.
One thing you can be sure about, though – insuring a taxicab costs considerably more than insuring a car, and black taxi insurance almost always costs more than private hire insurance.
With that in mind, the best plan is to compare quotes from a number of different public hire insurance providers…that way you can be reasonably confident that you're taking out a good insurance policy at a fair price.
Is public hire taxi insurance available to someone under the age of 25?
As with other types of taxi insurance, most insurance firms have a minimum age limit of 25 for public hire taxicab insurance.
One or two taxi insurers may be willing to quote a price if you are planning to become a public hire taxi driver and you're currently under this age limit, but you could find that those quotes are prohibitively expensive because you are currently seen as a higher insurance risk.
Do public hire taxis need to be wheelchair accessible?
In contrast to the rules for licensed minicabs, black cabs in the UK are generally required to be accessible to wheelchair users.
Some local authorities may allow existing black cab drivers to continue driving a taxi that isn't wheelchair accessible for the time being, but in most areas new licences will only be issued for vehicles that are wheelchair accessible.
In addition, many local authorities are beginning to require that existing black taxis be modified in order to accommodate wheelchair users.
Does public hire taxi insurance include public liability insurance?
Most taxi drivers take out public liability insurance, which covers them if something happens to a passenger or their belongings during the course of a commercial 'hire and reward' transaction.
Many taxi insurance companies don't include public liability cover as a standard part of their public hire insurance policies, though, so you might need to add it to your insurance as an optional extra.
Or, if you have already taken out public hire taxi insurance but didn't include public liability cover, you could take out a standalone public liability insurance policy for your taxicab.
What are some of the most common exclusions on a public hire insurance policy?
Most black taxi insurance policies will exclude the following:
The black cab being driven by an unauthorised driver
The public hire taxi being driven by someone under the age of 25
Incidents that occur as the result of unsafe driving, such as driving under the influence of alcohol
A black taxi that has been stolen while the keys were inside
Operating as a taxi driver outside of the region covered in your insurance policy
Taxi Insurance Comparison