Get Cheap Rabbit Insurance Quotes Now
Cheap Rabbit Insurance
Compare 15+ providers

Access Cashback & Rewards

97% of reviewers recommend us
Search and compare cheap quotes from over 15 UK pet insurance providers, including







---
Looking for cheaper insurance?
Search over 15 different pet insurance providers
Quotezone increases your chance of finding a great deal by searching the market for you.
Buy online or by phone
Purchase your pet policy quickly and easily, monthly and annual payment options available.
You could save time and money
Get your quotes by filling in one simple form, compare prices, and start saving.
Over three million users
Join our ever-growing list of satisfied customers today.
Secure & Encrypted
We guarantee your confidence when shopping online by following the latest internet security standards.
Independent and unbiased service
We aren't owned by or have any investment from any insurance company.
What people have to say about us
First insurance I obtained. Good quotes and easy to distinguish which policy might be best for me ie with or without black box etc
Thank you this is best one
4.75/5 from 2915 customer reviews
Cheap Rabbit Insurance
---
Compare Rabbit Insurance Options 
Rabbits are loved by households all over the UK, with the PDSA estimating that a million of us care for these floppy-eared, four-legged friends. But although rabbits are smaller than many other household pets, and are usually a breeze to look after compared to a cat or dog, taking care of your rabbit is still a serious responsibility.
Should something happen to your pet you'd like to know there was someone there to help. That's why many owners decide to take out pet insurance for their rabbit.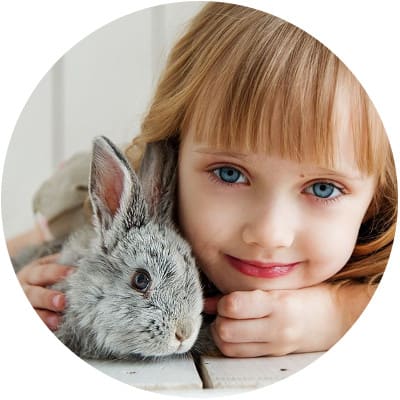 Why you should consider insuring your rabbit
Whilst dog insurance is a common consideration for new dog owners, many new rabbit owners ask whether rabbits really need to be insured. And the answer to that question is fairly simple: no matter what kind of four-legged friend you own, could you afford an unexpected veterinary bill if your pet gets ill or is injured?
To help you answer that, it's worth bearing in mind that the average pet insurance claim in the UK comes in at over £800, according to the ABI.
And what if your rabbit develops a chronic condition that results in multiple trips to the vet? Those costs can be a painful pill to swallow, especially when you compare the relatively cheap expense of rabbit pet insurance to a much more costly veterinary bill.
What are the most common medical conditions that rabbit insurance will cover?
Some of the most common medical conditions that your pet insurance provider might cover your rabbit against include:
* Overgrown teeth: A constant fibre diet helps rabbits keep their teeth healthy. A change in diet or health can result in your rabbit not eating, which takes away the one thing keeping those teeth under control. If this happens, a trip to the vet might be needed to burr down your rabbit's teeth under general anaesthetic.
* Snuffles: This has all of the symptoms of the common cold in humans, but is more serious for rabbits. You can spot it by witnessing an increase in sneezing, eye inflammation and abscesses. Again, a trip to the vet is needed for a course of antibiotics.
* Hairballs: It's a well-known fact that rabbits can't vomit, so should hairballs begin to block a rabbit's gastrointestinal tract surgery might be required to remove the blockage.
* Flystrike: This is one of the more horrible diseases your rabbit is at risk of catching, where flies lay eggs in moist areas of skin that hatch into maggots within 24 hours. This also releases a poison that can kill your rabbit.
Insurance for rabbits can also cover veterinary expenses resulting from ear mites, sore hocks, head tilt, and many other common conditions.
How much is pet insurance for a rabbit?
The cost of insurance for your rabbit will vary across providers and is influenced by many factors. Because so many variables go into calculating insurance premiums, no two rabbit insurance policies are ever the same. With this in mind here are some of the factors which insurers will take into account when deciding on the cost of your rabbit insurance.
The age of your rabbit – Older rabbits are more expensive to insure and many providers will consider a 5 year old rabbit over aged for insurance.
The level of coverage – The more comprehensive your coverage the more you can expect to pay on your premiums.
Your rabbits breed – Some breeds of rabbits are more prone to health issues than others, this can make them more risky to insure. Thankfully however the health effects of breed are not as dramatic as with other species such as dogs and cats.
The best way of finding an accurate figure on what you can expect to pay for your rabbit insurance is by comparing multiple quotes from across multiple lenders. For more info about the costs of pet insurance, refer to the following guide.
Does my rabbit need to be vaccinated and neutered to take out insurance?
Many rabbit insurers require vaccinations to be updated every year. While it might not be something they ask for proof of at the time of providing cover, should you come to claim they will ask for evidence of your rabbit's vaccinations.
By contrast, an insurer usually won't require your rabbit to be neutered. Although this can result in a longer life (with less fighting!) insurers are aware that this is your decision.
Will insurance for rabbits pay out if a pet is lost or stolen?
Many insurance providers will cover expenses you might incur if your pet goes missing – for example, they might agree to cover part of the cost of getting flyers printed or offering a reward (this type of cover is often referred to as 'advertising and reward cover').
If your particular insurance provider doesn't include advertising and reward cover on your insurance policy as standard you should be able to add it as an optional extra.
What type of pet insurance is available for rabbits?
Whether you're looking to insure your rabbit relatively cheaply, or you're searching for the best rabbit insurance money can buy, there are two main types of insurance policy available: lifetime insurance, and annual insurance.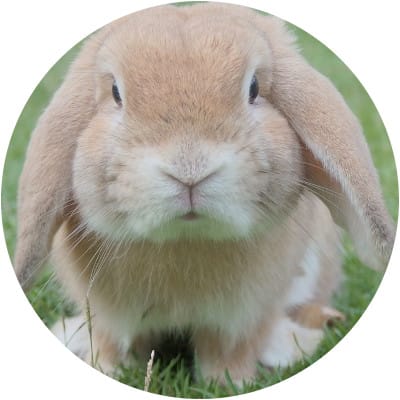 As the name suggests, lifetime pet insurance will cover your rabbit for the whole of its life in exchange for a pre-agreed annual fee, while annual pet insurance needs to be renewed and repriced each year.
A lifetime insurance policy is usually more expensive (at least in the beginning), because the longer the timeframe the greater the risk that your rabbit will develop a costly illness or medical condition at some point.
However, the premiums for annual pet insurance can rise sharply if your pet develops a chronic illness or needs regular medical supervision. In that situation lifetime pet insurance can end up being cheaper, provided you first signed up for the insurance policy when your pet was young and healthy.
Will I be offered cheaper rabbit insurance if my pet is mixed breed?
When a pet owner is comparing dog insurance quotes they will sometimes find that the insurance premiums are cheaper if their dog is a mixed breed, and more expensive if they own a pedigree.
There are two reasons for that:
* Pedigrees are more attractive to thieves, so there is a higher risk that they might be stolen
* Some pedigrees have a higher risk of congenital medical conditions or genetic disorders
However, when it comes to insuring a rabbit you will usually find that the breed has little to no effect on the insurance premium. So whether you own a Mini Lop or a Palomino, a Dutch rabbit or a British Giant…or whether your pet rabbit is a cuddly, floppy-eared mixed breed…you should find that other factors play a much more important role in determining the cost of insuring your rabbit, including your pet's age, its medical history and its current state of health.
How to find cheaper rabbit insurance quotes
The range of UK insurance providers that are willing to offer rabbit insurance is much smaller than those offering dog insurance or cat insurance, but it is still a good idea to compare quotes. That way you can be sure you're being offered a suitable policy at a fair price.
Other things pet owners can do to find cheaper insurance include:
* Opting for a higher excess, particularly when your pet is young and healthy
* Insuring multiple rabbits (or other pets) under a single multi-pet insurance policy, which can be cheaper than insuring each animal separately