Compare Travel Insurance Quotes Now
Cheap Family Travel Insurance
Compare up to 30 providers

Access Cashback & Rewards

97% of reviewers recommend us
Search and compare cheap quotes from up to 30 UK travel insurance providers, including
---
Looking for cheaper insurance?
Search up to 30 different travel insurance providers
Quotezone increases your chance of finding a great deal by searching the market for you.
Buy online or by phone
Purchase your travel policy quickly and easily, monthly and annual payment options available.
You could save time and money
Get your quotes by filling in one simple form, compare prices, and start saving.
Over three million users
Join our ever-growing list of satisfied customers today.
Secure & Encrypted
We guarantee your confidence when shopping online by following the latest internet security standards.
Independent and unbiased service
We aren't owned by or have any investment from any insurance company.
What people have to say about us
Very easy website to use, vast amount of quotes to choose from and lots of information about each policy. Good prices as well.
the price was right and the customer service excellent.
Poulton-le-Fylde, United Kingdom
4.75/5 from 2911 customer reviews
Family Travel Insurance
Compare cheap family travel insurance online now with Quotezone.co.uk
---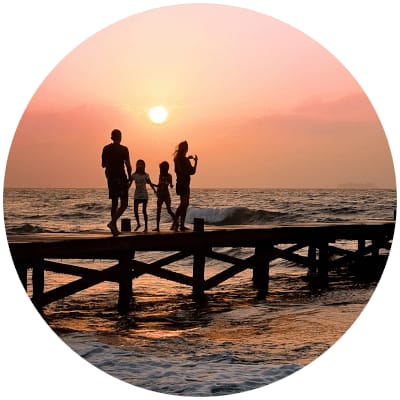 Having a family often means learning to expect the unexpected, but the last thing you need is for an accident or other unexpected mishap to ruin your family vacation. That's why it's a good idea to look into family travel insurance before you set off, because a good policy can help you to put things right if something goes wrong while you're overseas.
What is family travel insurance?
It's a type of travel insurance that's specifically designed for families, and in most cases these policies will cover up to two adults and at least one child travelling together.
If you are travelling with several children a family policy can sometimes be the most cost-effective option, since some will cover children under 18 for free.
However, it's fairly standard for insurers to specify that everyone named on the policy must live at the same address – something to bear in mind if you're travelling with children or stepchildren who live elsewhere.
Is there a maximum number of children that can be covered on a family travel insurance policy?
Insurers set their own limits, but you'll usually be able to add up to five children to your policy, although some insurance providers may let you insure up to eight.
If your own insurance provider includes free coverage for children under the age of 18 it's possible the maximum number of under 18s may be lower than the standard maximum, though, so it's important to check this before you travel.
Do I need family holiday insurance?
There are several types of insurance that are mandatory in the UK (car insurance, motorbike insurance and employers' liability insurance, for instance), but family travel insurance isn't one of them.
But whether you're planning a family holiday to Disneyland in France, or you're taking your kids on a campervan holiday across Europe, family travel insurance can help to insure you and your loved ones against a wide range of risks, from cancelled flights, to lost or stolen luggage, to medical emergencies.
What does the best family travel insurance include?
The best family travel insurance policies should cover you and each of your loves ones for:
Medical expenses – in case someone in your family has an accident or takes ill while you're travelling.
Repatriation – covers the cost of bringing your family back home in a medical emergency.
Cancellation or curtailment – compensates you if you have to cancel or cut short your family holiday.
Lost or damaged luggage – covers the cost of replacing your luggage if it's accidently lost, damaged or stolen.
Personal liability – pays for legal fees and compensation if you have an accident and someone blames you for their injuries or damage to their property.
As well as these standard features, a family travel insurance policy could also include:
Alternative accommodation if there's a problem with your booking.
Cover for a range of family activities such as water parks, pony trekking or sailing.
Cover for damaged or stolen pushchairs or car seats.
Increased levels of cover for luggage.
24-hour helpline.
Do I need annual family travel insurance?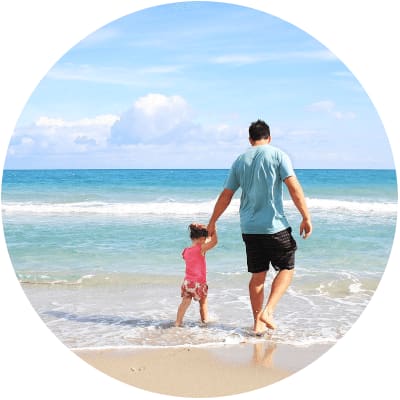 Annual family travel cover (sometimes called multi trip cover) is best for families that go on holiday more than twice a year. If you and your family only go away once in a 12-month period then single trip cover will be all you need.
You'll need to bear in mind that insurers limit the number of days you can be away for – this is usually set at 31 days. If you have an annual policy, you can still go away several times each year, but each holiday can be no more than the limit set.
What countries are classed as Europe for insurance purposes?
Travel insurance is usually split into three regions:
It's important to realise that insurers group countries according to their own rules so it's not always obvious what region a country falls under. For example, popular destinations like Egypt, Turkey and Morocco are often included under Europe rather than worldwide, even though those countries aren't in Europe.
To be on the safe side, always check that the policy you choose covers the country you're visiting.
What family travel insurance exclusions should I look out for?
All insurers will have their own terms and conditions, so don't assume that all family travel insurance policies will have the same range of exclusions. With that in mind, it's sensible to check the policy wording carefully before you go away, to avoid disappointment.
Some common exclusions to look for include:
Winter sports – while some policies may cover you for summer leisure activities, you might not be covered for winter sports like skiing, snowboarding or sledging. If you are taking part in anything like this, you should either make sure you're covered or else add this to your policy as an add-on.
Independent travel – some family policies state that you must travel as a family so if you're travelling separately you may not be covered.
Cancellation for reasons within your control – if you change your mind about a holiday it's highly unlikely that your insurer will compensate you. Similarly, if you have to cancel because you haven't applied for a passport or visa in time, your insurer can refuse to pay out.
Can I buy family travel insurance if someone in my family has a pre-existing medical condition?
If you or one of your family members has a pre-existing medical condition you can still buy family travel insurance but you'll need to declare the condition to your insurer.
Depending on the nature of the medical condition, your premium might be unaffected, it might rise to reflect the increased insurance risk the condition poses to the insurer, or the insurer might add a clause stating that any costs relating to that medical condition are specifically excluded from coverage.
However, if you don't let your insurer know about a pre-existing condition you risk invalidating your policy entirely, so it's vital that you declare it when taking out a policy.
Travel Insurance Comparison