Travel Insurance for the USA
Cheap USA Travel Insurance
Compare up to 30 providers

Access Cashback & Rewards

97% of reviewers recommend us
Search and compare cheap quotes from up to 30 UK travel insurance providers, including
---
Looking for cheaper insurance?
Search up to 30 different travel insurance providers
Quotezone increases your chance of finding a great deal by searching the market for you.
Buy online or by phone
Purchase your travel policy quickly and easily, monthly and annual payment options available.
You could save time and money
Get your quotes by filling in one simple form, compare prices, and start saving.
Over three million users
Join our ever-growing list of satisfied customers today.
Norton secured
Our quote form uses 128-bit SSL encryption for your peace of mind.
Independent and unbiased service
We aren't owned by or have any investment from any insurance company.
What people have to say about us
Very helpful and understanding
4.74/5 from 2216 customer reviews
USA Travel Insurance: Compare Cheap Quotes Online
---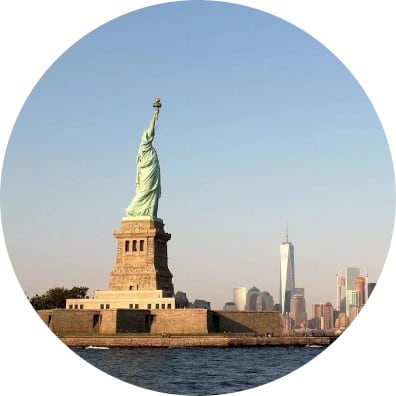 Snow-capped mountains, long sandy beaches, vast national forests and a city that never sleeps – the USA is a land filled with contrasts so it's no wonder that 4.5 million Brits visited last year. If you're planning on joining those travellers on a trip across the pond and want a hitch-free holiday – make sure USA travel insurance is on your to-do list.
Compare travel insurance for the USA now
Do I need travel insurance for the USA?
Travel insurance isn't a legal requirement no matter where you're going, but if you're venturing to a country like the US (where you won't be covered by your European Health Insurance Card, and the cost of repatriation is likely to be much higher than if you were visiting a country closer to home) taking out a suitable travel insurance USA policy before you set off is a sensible precaution.
Policies can compensate you if anything goes wrong while you're enjoying your holiday in America – if your flight is cancelled, your luggage is stolen, or you take ill and need emergency medical treatment, for instance. Without travel insurance for America you'd have to pay for those costs yourself.
What should travel insurance to USA include?
Your travel insurance policy should always cover you for:
Medical expenses – the UK has no healthcare agreement with the USA so you'll be expected to pay for any treatment you need.
Repatriation – covers the cost of bringing you back home in an emergency.
Cancellation or curtailment – compensates you in case you have to cancel or cut short your holiday for reasons you can't control.
Delayed or missed departures – covers expenses if you miss your flight through no fault of your own.
Lost, stolen or damaged luggage – covers the cost of accidently lost, damaged or stolen luggage.
Personal liability – pays for legal fees and compensation if you have an accident and someone blames you for their injuries or damage to their property.
How much medical cover should my holiday insurance USA provide?
If you're travelling to America it's recommended that you aim for a policy that gives you at least £10 million worth of cover for medical treatment.
While that might seem excessive, it's worth bearing in mind that the USA has one of the most expensive healthcare systems in the world and it's important not to underestimate the cost. The Association of British Insurers (ABI) revealed how a claim for heart problems by one British couple resulted in medical fees of £241,000.
What other features should my US travel insurance include?
Your policy should cover you for any activities you do while you're abroad, so it's important to check the terms and conditions set out in your policy documents. Popular activities that you might need to add to your policy include:
Winter sports – the USA has some amazing ski resorts so if you're heading to the mountains, make sure you take out extra cover for winter activities like skiing, snowboarding or sledging. Don't assume winter sports will also cover you for more extreme pursuits like heli-skiing – if you're taking part in anything like this, you might need even more cover so speak to your insurer.
Extreme sports – you may need to take out extra insurance for activities considered out of the ordinary for example kayaking, rock climbing, abseiling or even pony trekking through the prairies.
Rental cars – some policies won't cover damage to a hire car, so if you are planning to take in the sights on a driving holiday check your policy and if not, ask for additional insurance.
What exclusions are there with holiday insurance to America?
Almost all insurers will have exclusions: specific situations that won't be covered by the policy, or things the policyholder might do that might invalidate their cover. Common exclusions could include:
Alcohol or drugs – insurers rarely pay out if a claim is the result of drinking too much or taking drugs.
Visas and passports – it's up to you to ensure your passport is valid and that you've applied for a visa. If you don't and have to cancel your holiday, your insurer can refuse to compensate you. If you have a British passport, you can apply for a visa known as an ESTA (electronic system for travel authorization) at the official US Customs and Border Protection website (you should do this at least three days before your holiday). Be wary of any unofficial websites offering ESTAs, they cost a lot more than the $14 charged by the government and won't necessarily be processed properly.
Can I buy holiday insurance for America with a pre-existing medical condition?
Pre-existing medical conditions are often listed as exclusions, which can make finding travel insurance tricky – but it's not impossible.
Depending on what your condition is, some insurers may be willing to cover costs relating to that condition provided you pay a higher premium, while others might offer to sell you a USA travel insurance policy that specifically excludes expenses that arise as a result that condition.
There are also some insurance providers that specialise in providing travel insurance for pre-existing medical conditions, and some of them offer additional policy features like 24-hour medical advice lines and increased cover for medication.
Do all worldwide policies cover the USA?
In short – no. Travel insurance is typically divided into three groups:
These regional groups reflect the differing levels of cover needed for medical treatment – for instance, European cover is often less costly than worldwide cover as subsidised or free treatment is sometimes available.
Insurers should always make it clear which countries are covered in their policy but it's always worth double checking to be on the safe side.
How long does holiday insurance to USA last?
It depends on the type of policy you buy. A single trip policy is exactly as it sounds and will provide travel insurance for one holiday. An annual (or multi-trip) policy will cover you for several holidays within a 12-month period.
You should also know that insurers set a limit to the length of your holiday – this is usually 31 days but providers set their own cap. So, if you've got an annual policy, you can still go away as many times as you like but each separate holiday can't be any more than the limit.
If you are staying away for longer, speak to your insurer as they'll usually be able to extend your policy.
If you're planning a gap year or sabbatical, consider backpacker insurance instead. These policies cover you for much longer – usually 12 months or more. They'll also cover you to travel from country to country, which makes them ideal if you decide to visit Canada or South America – just be sure the countries you visit are included.
Buy travel insurance for USA right here
At Quotezone.co.uk, we understand just how important it is to get the right travel insurance. We also know it can be time consuming and probably the last thing you want to do when you're planning an exciting trip – which is why we make searching easy by doing it for you.
Simply fill in this short form), sit back and let us compare the best USA travel insurance quotes for you.
Travel Insurance Comparison