Compare cheap travel insurance quotes for Turkey now
Travel Insurance for Turkey
Compare up to 30 providers

Access Cashback & Rewards

97% of reviewers recommend us
Search and compare cheap quotes from up to 30 UK travel insurance providers, including
---
Looking for cheaper insurance?
Search up to 30 different travel insurance providers
Quotezone increases your chance of finding a great deal by searching the market for you.
Buy online or by phone
Purchase your travel policy quickly and easily, monthly and annual payment options available.
You could save time and money
Get your quotes by filling in one simple form, compare prices, and start saving.
Over three million users
Join our ever-growing list of satisfied customers today.
Secure & Encrypted
We guarantee your confidence when shopping online by following the latest internet security standards.
Independent and unbiased service
We aren't owned by or have any investment from any insurance company.
What people have to say about us
Thank you this is best one
Very easy website to use, vast amount of quotes to choose from and lots of information about each policy. Good prices as well.
4.75/5 from 2913 customer reviews
Travel insurance for Turkey: Compare cheap holiday insurance quotes
---
With pristine beaches, long sunny days and a wealth of ancient history to explore, Turkey is an increasingly popular travel destination for British tourists. In fact, almost 3 million British travellers now visit Turkey each year.
But since the European Health Insurance Card (EHIC) isn't valid in Turkey travel insurance is even more important when you're setting off on a Turkish adventure than it would be if you were holidaying in an EU country.
Of course, that doesn't mean you should pay over the odds for your Turkey travel insurance – by using our travel insurance comparison system you can compare quotes from a wide range of providers, making it more likely that you'll find a suitable insurance policy for your holiday at a cheap price.
Do I need travel insurance for Turkey?
You don't need travel insurance by law, no matter where you're going, but a policy can help cover costs if something goes wrong – for example if your luggage is stolen or you need to cut your holiday short due to illness.
And if you're taking the whole family to Turkey having the right cover in place is even more important, giving you peace of mind that you'll be covered if something does go wrong during your family holiday.
What should holiday insurance to Turkey cover?
A good travel insurance policy for Turkey should cover you for:
Medical expenses – covers you for any medical treatment you require while you're travelling.
Repatriation – pays to bring you back to the UK in a medical emergency.
Lost or damaged luggage – reimburses you for any accidently lost, stolen or damaged luggage.
Cancellation or curtailment – compensates you if you have to cancel or cut short your holiday through no fault of your own.
Missed or delayed departure – covers your expenses if your flights are delayed or you miss it because of circumstances outside of your control.
Personal liability – pays legal fees and compensation if you have an accident and someone blames you for their injuries or damage to their property.
If you're planning to take part in any activities that insurers might class as 'risky', such as kayaking, rock climbing or sailing, it might be a good idea to add 'extreme sports cover' to your insurance policy too. This is because many standard policies have exclusions that mean you won't be covered if you're injured while taking part in activities your insurer views as risky.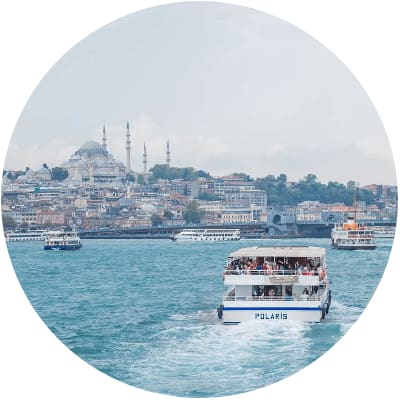 Is Turkey classed as Europe for holiday insurance?
Confusingly, not all insurers class Turkey in the same way when it comes to regional travel insurance. Some providers do include Turkey under their European travel insurance policies, while others group it under their worldwide policies. The best advice is to double check the terms and conditions of any policy before you go away.
Do I need single trip or annual holiday insurance for Turkey?
Whether you should buy a single trip or annual travel insurance policy for your holiday to Turkey largely depends on the rest of your holiday plans in any given year.
If your visit to Turkey is your only holiday within a 12-month period then single trip cover is likely to be the most suitable (and cheapest) option.
On the other hand, if you're lucky enough to be going away more than two times in one year then annual (or multitrip) holiday insurance could prove to be better value.
How long can my Turkish holiday last before my travel insurance stops covering me?
Whether you buy a single trip policy or annual cover, insurers will limit the amount of time each holiday can last – typically this is 31 days.
For example, if you have multi-trip travel insurance you can go away several times a year but each holiday can't last any more than 31 days (or whatever the limit is).
If you're going away for a little longer, you can ask your insurer to extend your policy to ensure you're covered for the full length of your trip.
If you're planning to take a gap year in Turkey, or you're backpacking and Turkey is one of the countries on your itinerary, then backpacker insurance might be a better option. These policies usually cover you for a minimum of 12 months and also mean you can go from country to country if you decide to travel further afield. Just check that the countries you plan to visit are included in your policy.
Is my EHIC valid in Turkey?
Turkey is not part of the European Union, which means your European Health Insurance Card (EHIC) will not be valid while you're there.
This means it's even more important to have adequate travel insurance just in case you do have an accident and need medical care.
Do I need to declare any pre-existing medical conditions?
A pre-existing medical condition is any condition that you're having treatment for or taking medication for – for example diabetes or high blood pressure.
You'll always be asked to declare any health conditions to ensure your policy reflects the medical care you may potentially need. It's crucial to be honest with your insurer, if not you risk invalidating your policy which means they won't pay out if you need to make a claim.
Can I buy family travel insurance for Turkey?
Yes, most insurance providers offer family travel cover, and in some cases they'll even offer a discount for each additional family member you add to your policy.
Some insurers will also include cover for children under the age of 18 for free, but you'll need to check any conditions or exclusions set by your insurer. For example, some providers specify that family members must all live at the same address. If you're going on holiday with stepchildren, or other close family members who live at a different address, make sure you let your provider know.
Travel Insurance Comparison