Compare wedding fleet insurance quotes now
Cheap Wedding Fleet Insurance
Quotes from UK insurance providers

One short form – save time & money
Policies and deals from industry leading insurance providers, including

































---
Looking for cheaper insurance?
Norton secured
Our quote form uses 128-bit SSL encryption for your peace of mind.
Over three million users
Join our ever-growing list of satisfied customers today.
You could save time and money
Get your quotes by filling in one simple form, compare prices, and start saving.
Independent and unbiased service
We aren't owned by or have any investment from any insurance company.
What people have to say about us
I am very pleased with the insurance deal you got me
Quick and easy to use and also very competitive
4.81/5 from 16 customer reviews
Wedding fleet insurance
---
Some forms of insurance are legally required when you run a wedding car business, but having the right cover in place will not only ensure you don't fall foul of the law, it can also help to safeguard your business…and your customer's big day.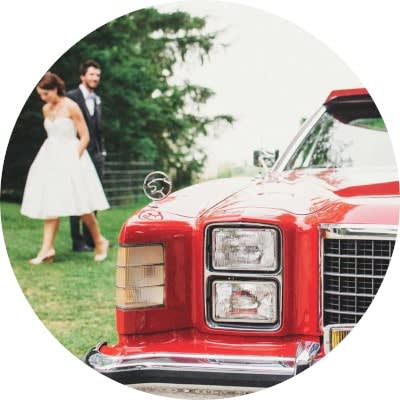 Compare wedding fleet insurance now
What is wedding car fleet insurance?
It's insurance aimed at businesses that need to cover more than one wedding car.
In most cases you'll be able to put different types of cars on to one policy. For example, if you owned a couple of traditional cars like a Rolls Royce or Daimler but also used a sports car like a Ferrari as part of your wedding fleet you'd usually be able to insure them all under one fleet policy.
How many cars can I have on wedding car fleet insurance?
Insurers have their own rules about what counts as a 'fleet'. Some providers have a minimum of two (often covered by mini-fleet insurance) while others will need you to have at least four vehicles to qualify for fleet cover.
Maximums also vary, although this is usually much more flexible and in theory a single fleet policy could cover thousands of cars.
Who can I insure on my fleet insurance wedding policy?
Many insurers offer 'any driver' fleet insurance policies, which could cover any of your employees – provided they have a full UK driving licence, of course.
However, it's worth bearing in mind that most fleet insurance providers do impose a minimum age restriction on 'any driver' policies, which is usually either 21 or 25.
If your wedding business employs younger staff and you'd like to insure them to drive your wedding cars you might be able to do so by adding them to the policy as a named driver. Take a look at our fleet insurance for young drivers page for more help and advice.
Why should I choose wedding fleet insurance?
Having all the cars you own on a single wedding fleet insurance policy could save you time and money. It means you only have to deal with one insurer no matter how big your fleet. You'll also only have one renewal date to remember.
Fleet cover could also save you money compared to buying separate policies for each car you own.
What levels of cover are there?
Like other types of fleet insurance, there are three levels of cover you can choose from:
Third party only (TPO) – covers injury or damage to other people and their property if your car is involved in an accident. It doesn't pay out for any injuries you suffer and won't cover any damage to your car. This is the minimum level of cover you must have by law.
Third party, fire and theft (TPFT) – this gives you everything you get with TPO and will also pay to repair or replace your car if it's stolen or damaged by fire.
Fully-comprehensive – provides TPFT and will also pay out if your car is damaged or destroyed because of an accident or other insured event. This is often the most expensive level of cover you can buy, since it's the most comprehensive.
Do I need any special type of insurance to run my wedding car fleet?
Your policy should be specifically tailored to the needs of your bridal business, covering you for each of the specific risks your business faces.
For example, if you hire out your wedding cars with a chauffeur you'd need a policy that covers you for 'hire and reward', which allows you to transport people (and their property) in return for money.
On the other hand, if you only hire out the actual cars and clients drive themselves you'd need self-drive hire insurance instead. This type of cover basically lets you rent out your car and insures the vehicle while your customer is driving it.
Self-drive hire insurance often comes with age restrictions and drivers will typically need to be between 21 and 70.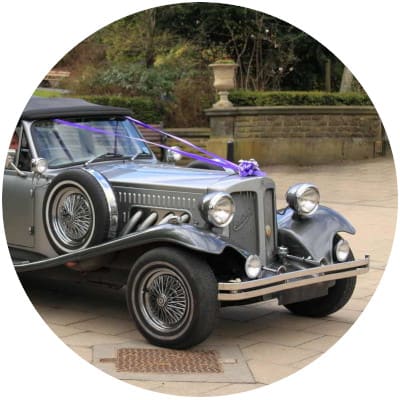 What other features should I add to my wedding fleet insurance?
Adding on extra features to your policy can help boost overall protection – such as:
Employers' liability – you'll need this by law if you employ anyone (including part time and casual workers). It covers potential legal costs and compensation pay-outs you might face if a staff member was ever injured because of the work they were required to do.
Breakdown cover – your cars should be well serviced in between jobs, but should the worst happen roadside recovery can help you get back on the road.
Public liability – pays out if a member of the public sues your business for injury or damage to their property.
Agreed value cover – if a car is damaged beyond repair this gives you a fixed amount of money as compensation.
Personal effects cover – compensates you if possessions in your car are damaged or destroyed because of an accident, fire or theft.
How much does wedding car insurance cost?
It's almost impossible to give an average cost of insurance, because premiums vary considerably depending on a number of factors, including:
The type of policy you have, for example 'any driver' or 'named driver'
The level of cover you choose
The number of vehicles you have
How old your drivers are and how long they've held a licence for
Your previous claims history.
The best way to figure out how much wedding fleet insurance is going to cost is to use our fleet insurance comparison system.
Fleet Insurance Comparison