Home Insurance Index Reveals Your Contents Could be Worth an Average of £43,000
The latest quarterly Home Insurance Index from Quotezone.co.uk has revealed that the average value of home contents in the UK is an eye-watering £43,040 – yet 38% of households do not take out accidental damage cover for their contents.
Homeowners in London are the least likely to take out accidental damage cover with their home insurance policy, with just 49.19% of households in London opting for this add-on.
By contrast, over 68% of homeowners in Scotland took out a home insurance policy with accidental damage cover.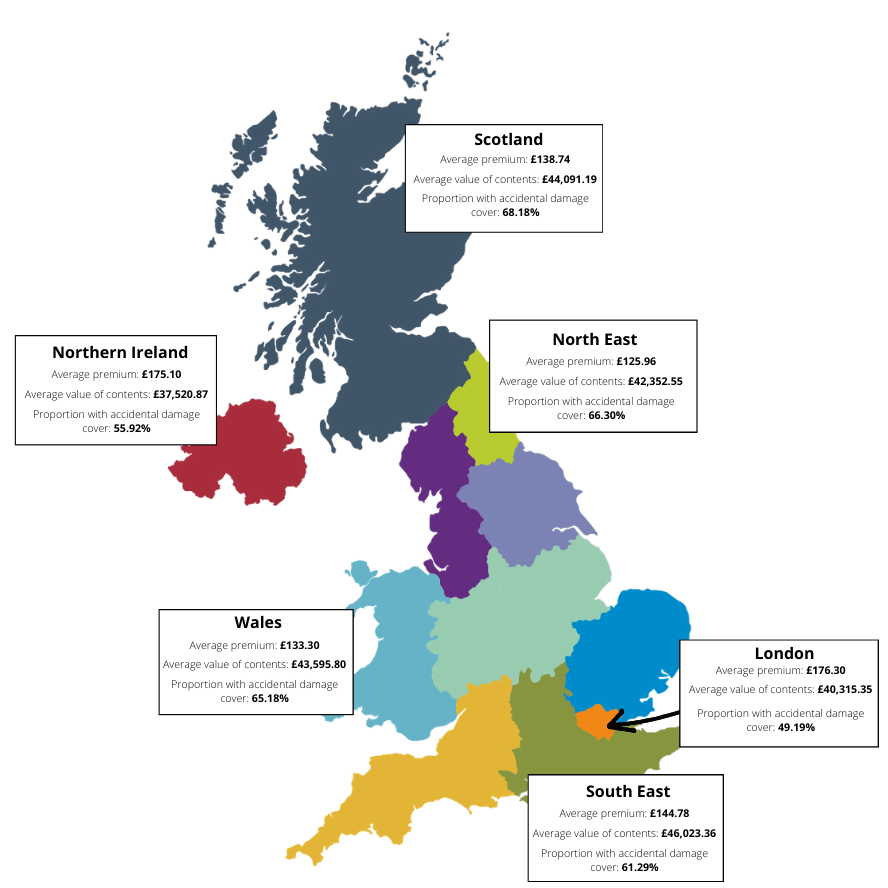 Quotezone.co.uk's quarterly Home Insurance Index is based on a sample of over 20,000 standard home insurance policies, and is designed to give homeowners greater transparency around home insurance costs at any given time as well as an understanding of whether premiums are trending upwards or downwards over time in their area.
The full regional breakdown for the third quarter is shown below.
| | | | |
| --- | --- | --- | --- |
| Region | Average premium (Q3) | Average value of contents | Proportion with accidental damage cover |
| Wales | £133.30 | £43,595.80 | 65.18% |
| South West England | £133.41 | £45,682.26 | 63.08% |
| West Midlands | £132.54 | £44,043.80 | 65.23% |
| East Midlands | £135.98 | £43,606.88 | 63.36% |
| Scotland | £138.74 | £44,091.19 | 68.18% |
| North West England | £131.82 | £43,648.98 | 60.66% |
| Yorkshire and the Humber | £137.17 | £43,738.86 | 62.92% |
| East of England | £141.29 | £45,148.86 | 63.88% |
| South East England | £144.78 | £46,023.36 | 61.29% |
| Northern Ireland | £175.10 | £37,520.87 | 55.92% |
| London | £176.30 | £40,315.35 | 49.19% |
| North East England | £125.96 | £42,352.55 | 66.30% |
| UK average | £144.41 | £43,040.18 | 61.98% |