Motorcycle Travel Insurance
Cheap Motorcycle Travel Insurance
Compare up to 30 providers

Access Cashback & Rewards

97% of reviewers recommend us
Search and compare cheap quotes from up to 30 UK travel insurance providers, including
---
Looking for cheaper insurance?
Search up to 30 different travel insurance providers
Quotezone increases your chance of finding a great deal by searching the market for you.
Buy online or by phone
Purchase your travel policy quickly and easily, monthly and annual payment options available.
You could save time and money
Get your quotes by filling in one simple form, compare prices, and start saving.
Over three million users
Join our ever-growing list of satisfied customers today.
Norton secured
Our quote form uses 128-bit SSL encryption for your peace of mind.
Independent and unbiased service
We aren't owned by or have any investment from any insurance company.
What people have to say about us
Very good service and very quick on answering yhe phones when you call
Very helpful and understanding
4.74/5 from 2217 customer reviews
Motorbike Travel Insurance: compare cheap quotes online
---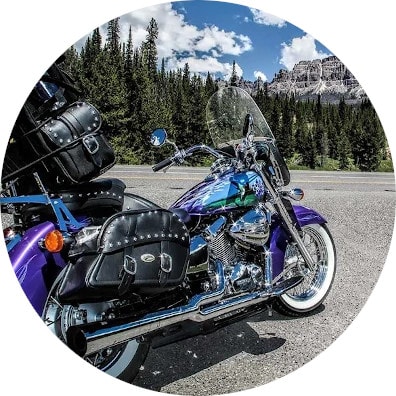 A motorbike is more than just a mode of transport, it's a ticket to take to the open road. But motorcycles are also valuable machines, so if you're planning to bring yours along when you head off on your travels it would be a wise idea to ensure your bike is covered by a suitable motorcycle travel insurance policy.
Why do I need motorcycle travel insurance?
If you're driving your motorcycle around the UK you may or may not decide to forego UK travel insurance, but if you're planning on taking your motorbike abroad it might be a wise idea to consider motorcycle holiday insurance.
That's because a standard travel insurance policy might not cover the bike itself or your accessories when you take it overseas. Similarly, you can't necessarily rely on your motorbike insurance to give you all the protection you need. For instance, your policy may not cover you to ride outside of the UK, or if it does it could limit the number of days that you're covered for. It's possible you may also be limited to third-party only cover when you're riding overseas.
Motorcycle travel insurance, on the other hand, can give you all-round protection and compensate you if your holiday doesn't quite go to according to plan. This type of policy can cover the things you'd expect from a regular travel insurance policy, like emergency medical treatment or lost luggage, but can also protect your motorcycle and may even provide a replacement if yours is stolen.
If you're thinking of hiring a motorcycle while you're abroad rather than taking your own, it's worth bearing in mind that standard travel insurance often only insures you to ride a moped or less powerful bike. If you want to hire anything over 125cc you're likely to need a specific motorcycle travel insurance policy instead.
What does travel insurance for motorcyclists include?
Like all good travel insurance, your motorbike holiday insurance policy should include cover for:
Medical treatment – this covers any treatment you need while abroad. It's really important not to underestimate the cost of healthcare – especially in countries like the USA and Canada.
Repatriation – covers the cost of bringing you back home in an emergency.
Luggage – pays to replace any accidently lost, damaged or stolen luggage.
Cancellation or curtailment – compensates you if you have to cancel or cut short your holiday through no fault of your own.
Missed or delayed departures – covers any expenses if your flight or journey out of the UK is delayed or you miss your departure due to circumstances outside of your control.
Personal liability – covers legal fees and compensation if you have an accident and someone blames you for their injuries or damage to their property. Your motorbike insurance might provide personal liability as well but check the level of cover and also whether it applies to incidents that happen abroad.
As well as these essentials, motorbike travel insurance can also provide:
Insurance for specific activities like track days or off-road riding.
Cover for your bike, accessories and equipment like helmets, boots, leathers and panniers.
Cover for anyone riding pillion.
Do I need motorcycle holiday insurance if I have an EHIC?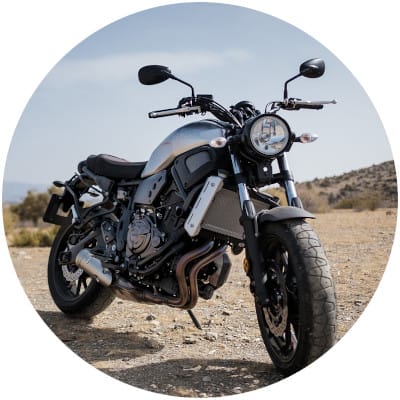 A European Health Insurance Card (EHIC) is handy to have if you're travelling through Europe but it's not a replacement for good motorcycle holiday insurance.
An EHIC entitles you to the same level of healthcare (and at the same price) as locals, so it doesn't necessarily mean your medical treatment will be free. It's also only valid in the European Union (EU) and European Free Trade Area (EFTA). While this could mean treatment at a reduced cost or for free in some countries, the EHIC is only valid at state-funded hospitals and medical centres.
Your EHIC also doesn't cover the cost of being air lifted to a hospital or repatriation. Plus, bear in mind that if you're travelling off the beaten track you may find the only care available is in a private hospital – which can cost thousands of pounds.
What countries does motorbike travel insurance cover?
You can buy motorcycle travel insurance for Europe and for worldwide destinations – just make sure the policy you buy covers the country you're visiting. As obvious as that sounds, insurers set their own rules about which region a country is grouped under. For instance, popular holiday hotspots like Turkey and Egypt are often classed as Europe.
Beyond Europe it's important to bear in mind that most travel insurance companies divide their worldwide policies into worldwide including the USA and Canada or worldwide excluding the USA and Canada.
Can I buy travel insurance for motorcycle touring trips?
Yes, if you're off on a lengthy sightseeing tour you should be able to find specific motorbike touring travel insurance. These policies mean you can travel continuously for a long period of time – sometimes up to two years.
If you are touring, it's vital to have the right cover because some motorbike travel insurance policies may only cover you for a limited amount of time. For example:
Single trip insurance – only covers you for the length of one holiday. The length of the trip is often limited to around 31 days.
Annual insurance – also known as multi-trip cover, this insures you for several holidays within a 12-month period. While you can take lots of holidays with this policy, the length of each trip is also usually limited to 31 days.
Compare motorcycle travel insurance
When you're taking something as expensive and important as your motorcycle on holiday, it's crucial to have the right type of cover. To start your search for the best motorcycle holiday insurance, simply answer a few questions and sit back while we find quotes that meet your needs.
Travel Insurance Comparison