How Much Would Movie Cars Cost to Insure?
We've all seen the iconic cars from the films, with their flashy gadgets and awe-inspiring bodywork. But how much might it cost to insure these celebrated motors? Quotezone.co.uk decided to put the curiosity to rest.
Our specialists looked at the usual queries asked when comparing car insurance quotes, such as the driver's age, their profession and whether or not they have a No Claims Bonus. They also reviewed the unique features of each vehicle, such as its ability to time-travel or transform into a submarine. Find out how much these cars might cost to insure in 2019.
*All cars and drivers are fictional and feature in TV and film, so any insurance quotes given are guesstimates. While we have done our best to base them in a real life context, we can't guarantee this is how much you'll actually pay if you own a time-travelling DeLorean or need to insure a real Transformer.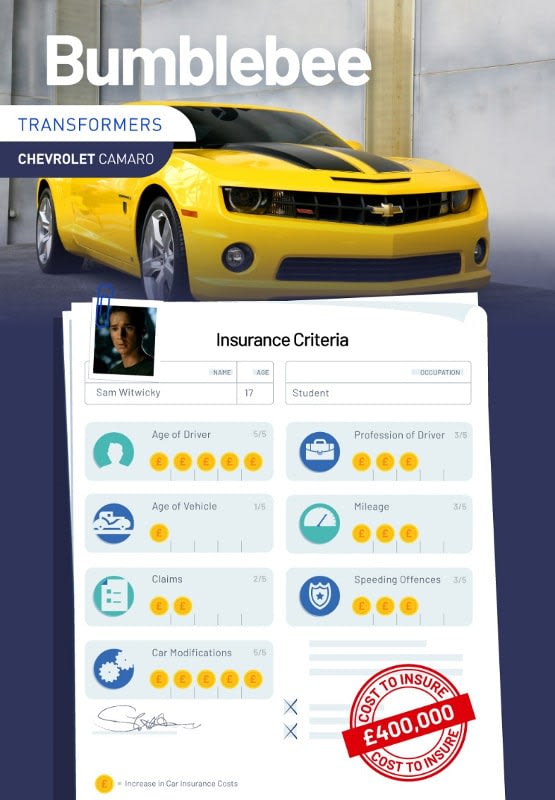 Bumblebee
Bumblebee started off as a 1977 Camaro in the Transformers 2007 film and then transformed into a freshened up 2009 Camaro when his appearance was insulted by Mikaela. What else can this car reconstruct into? A huge robot!
The fact that Bumblebee can change into a walking war-machine with a plasma cannon and missiles makes the insurance premium for this car extremely costly, while the Transformer's record of collisions and speeding offences pushes the premium even higher, making Bumblebee the most expensive one on our list to insure at £400,000.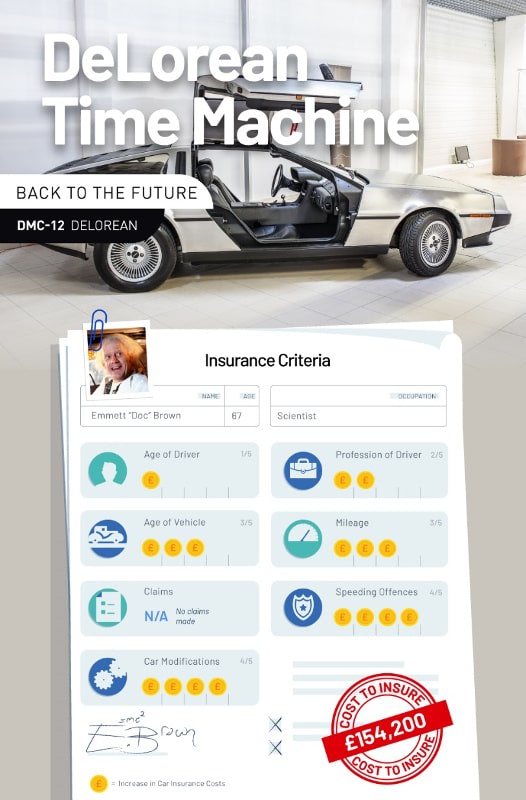 DeLorean Time Machine
It's Doc Brown's most successful invention, and probably the most expensive…at least when it comes to car insurance.
If you wanted to drive this stunning car with its stainless steel bodywork and futuristic flux capacitor it would set you back a cool £154,200 a year in car insurance. Ouch.
Why so pricey? Well to time travel in this machine you have to break the law and speed at 88mph…and you'd also have to use the radioactive chemical Plutonium to give you the 1.21 gigawatts of power necessary to travel in time. That doesn't look too good to the underwriters.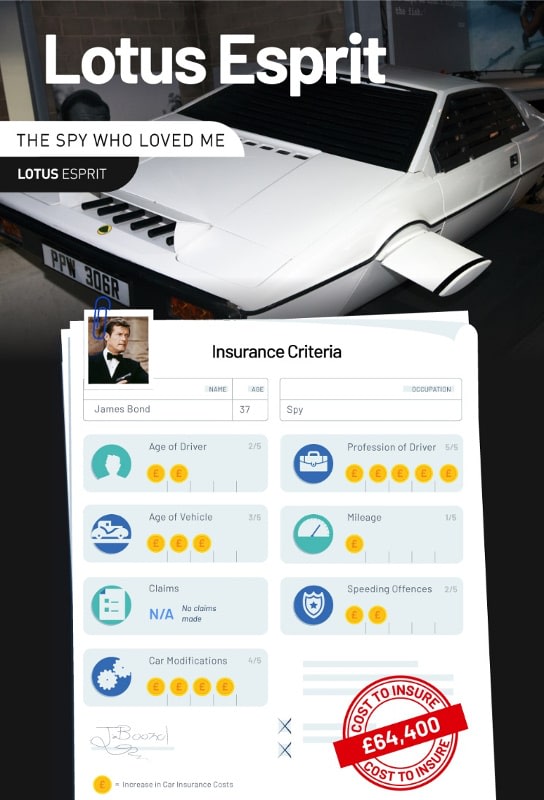 Lotus Esprit
From missiles to submarine mode, this Lotus Esprit is equipped with all of the car modifications necessary for a spy but not so necessary for your average Joe.
Because of the added risk of travelling underwater, the car's dangerous weaponry and the fact it is regularly involved in speedy car chases, James Bond would be forced to fork out a whopping £64,400 to insure this car.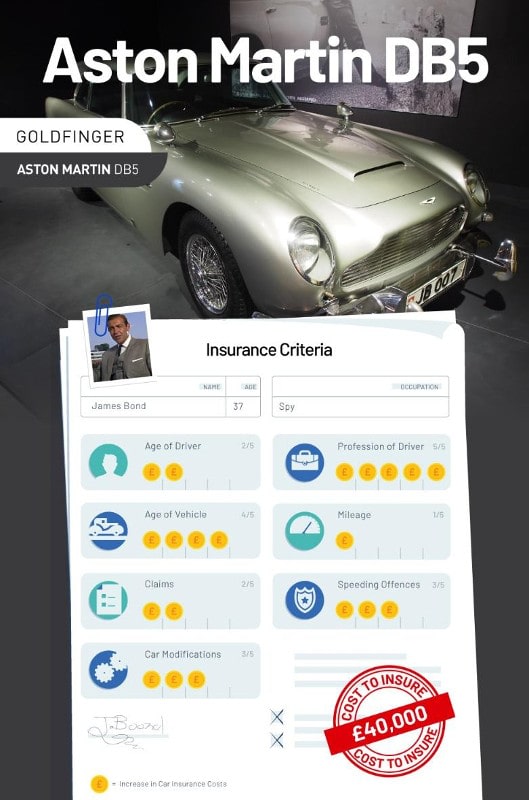 Aston Martin DB5
It's another Bond car, but we couldn't complete this list without including the iconic Aston Martin DB5. This car comes complete with many gadgets, including a ram bumper, machine guns, ejector seats, a smoke screen, and many more.
These features might impress your friends but are likely to be frowned upon by the underwriters, meaning the insurance premium for this car would clock up at £40,000.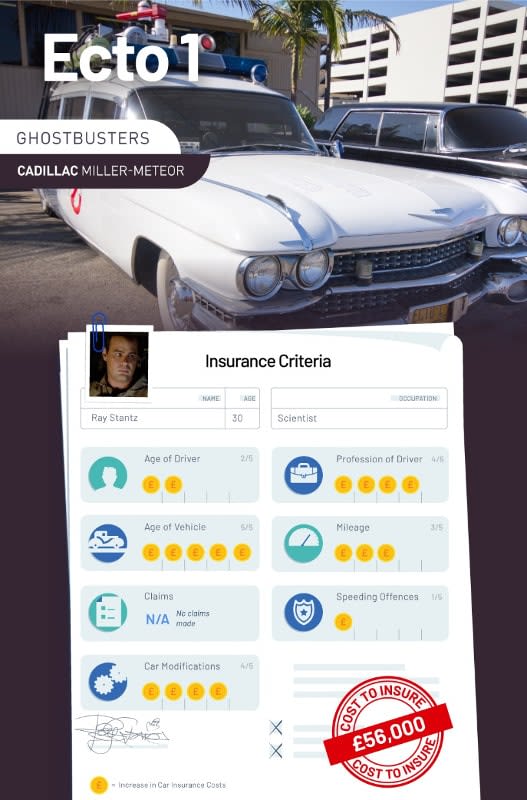 Ecto 1
Ray had to carry out some hefty work in order to get this Cadillac Miller-Meteor into shape and transform it into the ghostbusting car we all know and love – the Ecto 1.
Because of the extensive series of modifications to the car there's no knowing if this ghostbusting vehicle would even pass its MOT, and because of its age (1959) it's rare you'll find all the parts.
What will raise even more eyebrows with insurance firms is the Ecto 1's unpredictable ghost capturing weaponry, resulting in an annual insurance premium of £56,000.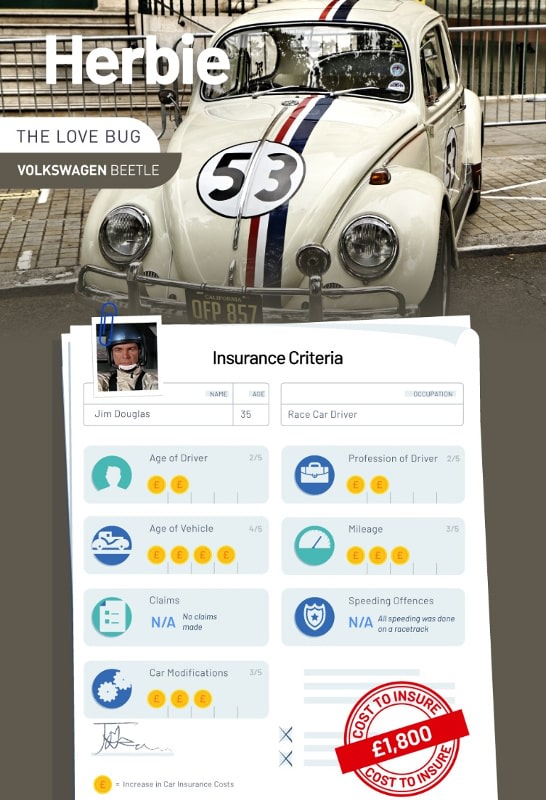 Herbie
This iconic movie car has the benefit of being a sentient Volkswagen Beetle. It practically has the futuristic tech of self-driving cars packed into a retro 1963 vehicle.
A regular, run-of-the-mill 1960s Beetle might cost £300 to £400 to insure, but autonomous vehicles are untested and unpredictable which means they represent a higher risk to insurers. For that reason Herbie attracts a much higher premium of £1,800.
---
Sources:
https://editorial.rottentomatoes.com/article/Total-Recall-50-Most-Memorable-Movie-Cars/
http://disney.wikia.com/wiki/Herbie
https://jamesbond.fandom.com/wiki/Lotus_Esprit_S1
https://jamesbond.fandom.com/wiki/Aston_Martin_DB5
http://backtothefuture.wikia.com/wiki/DeLorean_time_machine
http://michaelbaystransformers.wikia.com/wiki/Bumblebee
https://ghostbusters.fandom.com/wiki/Ecto-1
https://en.wikipedia.org/wiki/James_Bond
https://en.wikipedia.org/wiki/Emmett_Brown
https://ghostbusters.fandom.com/wiki/Ray_Stantz
http://disney.wikia.com/wiki/Jim_Douglas
https://www.driving.co.uk/news/driverless-cars-will-attract-hefty-insurance-premium/