What's The Most Popular Car Pet Name?
Kitt, General Lee, Herbie, Ecto 1 and Mutt Cutts are just some of the affectionate names given to cars in films. However, naming your car isn't just for the movies – many British motorists bestow pet names on their vehicles as well.
That's why Quotezone.co.uk decided to poll UK car owners to find out the answer to that burning question: What do British motorists name their cars?
Ten Most Popular Car Names
Betty
Bob
Bert
Dave
Amy
Bertie
Alfie
Peggy
Katy
Tilly
The name Betty is the most common pet name given to cars in the UK according to our poll. The reason for the choice? A huge 66% of people who have named their vehicle Betty were influenced by the car's personality, believing it to be dependable.
Most Unusual Car Names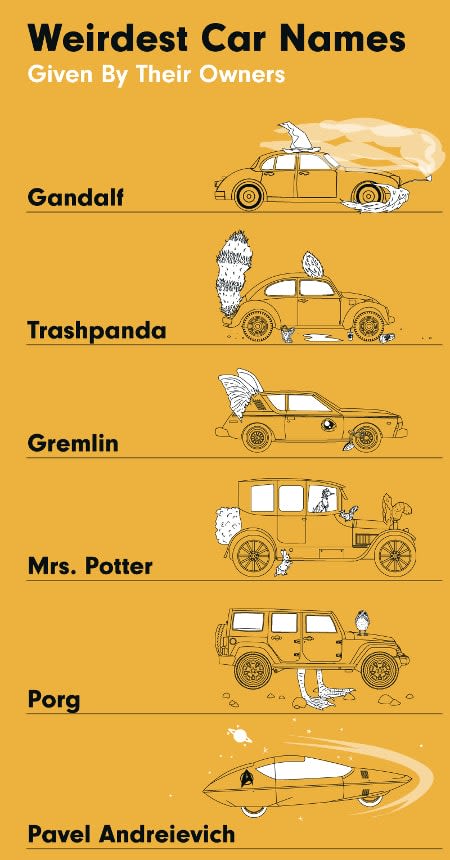 So, we've discovered the most popular names car insurance policyholders give to their cars – and interestingly, 66% of the motorists that did name their cars confessed to feeling more attached to the vehicle after naming it.
But, what are the strangest names drivers have given their cars? The graphic highlights some of the weirdest car names we found in our poll of car insurance policyholders.
Top 5 Reasons for Naming your Car
1. Inspired by the Car's Colour or Appearance – 28%
2. Inspired by the Car's Personality – 20%
3. Inspired by a Friend/Family Member – 15%
4. Inspired by a Movie/TV Show – 11%
5. Inspired by a Celebrity – 7%
Whether they opted for a popular name or a weird name for their car, it will probably come as no surprise to learn that a majority of the drivers we polled (28%) based their choice on the vehicle's physical appearance.
A car's perceived personality is a surprisingly common basis for the name a driver decides to give it, though, with 20% of the car drivers polled choosing the name based on personality.
When it comes to the vehicle's particular personality traits, 35% of motorists described their cars as either 'playful' or 'sexy/good looking'.
15% of drivers named their cars after a friend or a family member, which might explain why the name 'Bob' is the second most common name for a car in the UK according to our survey.
Meanwhile, 11% of Brits took inspiration from films and TV shows when naming their vehicle, with 'Bertha' being the most popular television-inspired pet name, based from the hit 80s children's television series.
The Top Personalities Traits for Cars
1. Dependable/Reliable – 39%
2. Playful – 20%
3. Sexy/Good Looking – 15%
4. Adventurous – 10%
5. Intelligent – 7% and Confident – 7%
Overall, 39% of respondents described their car as 'dependable/reliable', but when you break things down by gender there's a clear divide on the temperament of our cars. For example, of the 20% of people who felt their car had a 'playful' personality a whopping 66% were women.
The second top personality trait the men in our survey attributed to their car was 'sexy/ good looking' at 19%, which is more than double that of women at 7%.
It's Official: Honda Owners Most Likely to See Their Cars as Sexy
For some people a car is a utilitarian machine – a simple way to get from A to B. If utility is the only consideration then the vehicle's curves and contours aren't terribly important, but according to our poll a surprisingly large percentage of drivers (15%, to be precise) see their cars as 'sexy/good looking', with an even larger proportion of Honda owners (50%) describing their motors in this way.
People's Perceptions of Car Brand Personalities
Personality|Car Brand
Adventurous|Honda
Confident|Fiat
Cute|Nissan
Dependable/Reliable|Ford, BMW
Intelligent|Mercedes, Honda
Playful|Fiat, Peugeot
Sexy/Good Looking|Honda, BMW
Fiat and Peugeot Owners Most Likely to Regard Their Cars as 'Playful'
20% of the car owners we spoke to recognised their cars as having a 'playful' personality, with Fiat and Peugeot cars most likely overall to be described as playful. Volkswagen came in at second place for this personality trait, while Vauxhall followed closely behind in third place.
*Any discrepancies in % are due to rounding up.