The Safest Place to Own a Car
Keeping your car secure and avoiding road accidents is a major concern for motorists, both in the interests of protecting the vehicle and in an effort to keep the cost of car insurance down. Unfortunately for UK drivers vehicle-related theft is on the up, rising by 17% between 2016 and 2017.
Vehicle offences such as drink-driving and speeding have also increased by a whopping 12% year-on-year.
Fortunately there is also some good news: road traffic accidents are on the decline in the UK.
More good news: we've analysed accident and vehicle offences data for every part of the UK, and created a map of the country's safest places…and its danger zones.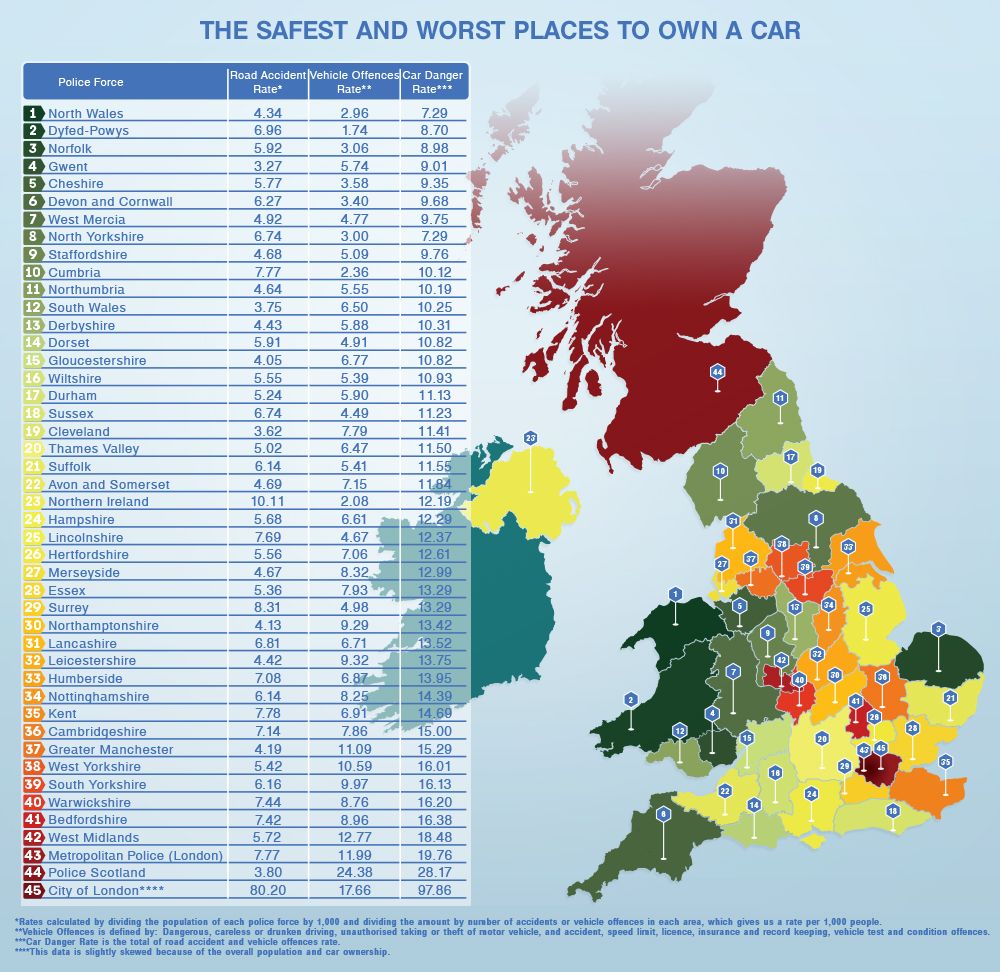 The UK's Safest Places for Car Owners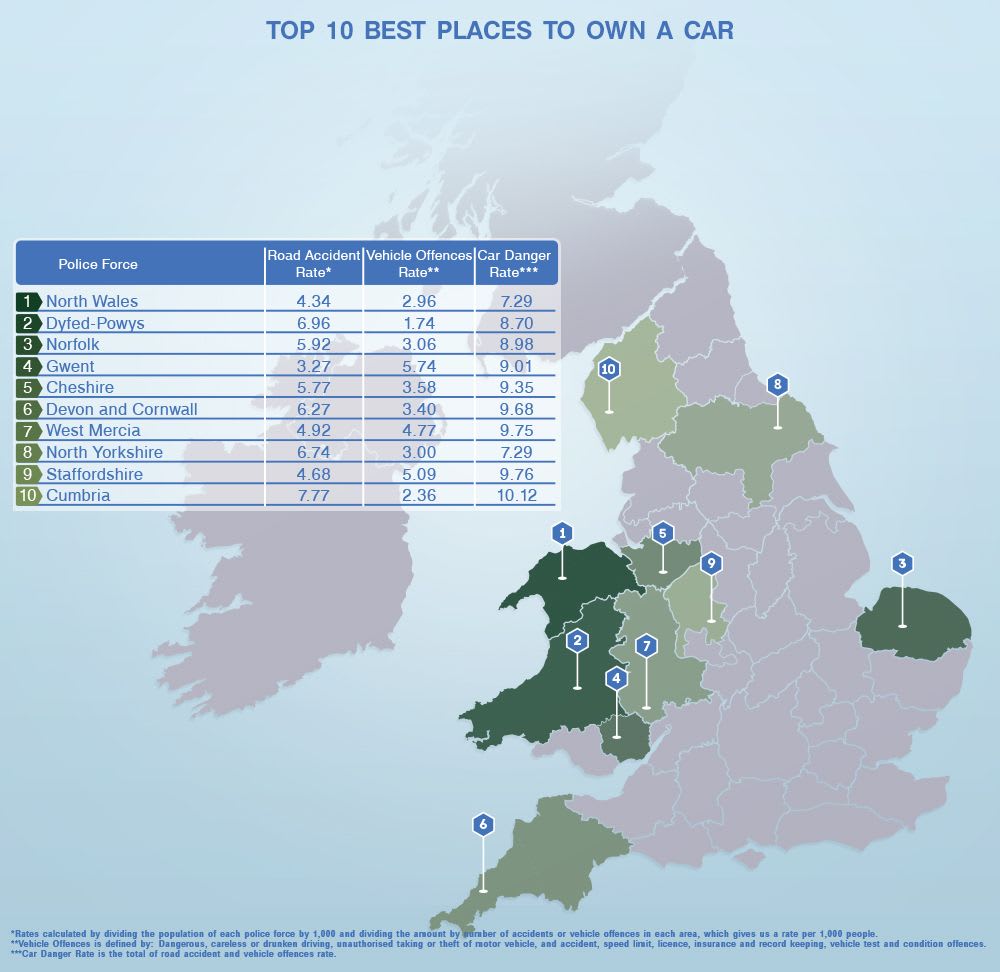 North Wales the Safest Place to Own a Car
In 2016 Lonely Planet named North Wales one of the world's top places to visit…and now it has also topped the list of safest places to own a car in the UK.
With an overall Car Danger Rate of just 7.29 per 1,000 people, North Wales is the UK's leading safe spot for car owners.
The largest town in this beautiful area of Wales is Wrexham, which has only had 14 reported vehicle crimes since January 2018. If you'd like to be even more safety conscious, though, you might want to avoid leaving your car on Wrexham's West Street or Stryt Gerallt, which were home to the largest concentration of vehicle crimes in the town.
Dyfed-Powys, located just a little further south, came in second in our ranking of the UK's safest places, boasting the second-lowest Car Danger Rate in Britain despite the fact that it's also the largest police territory in England and Wales.
In fact, the historical town of Aberystwyth in Dyfed-Powys only had one serious road accident in the past year.
Dyfed-Powys also had the lowest rate of vehicle offences in the UK, beating even North Wales on that measure.
The UK's Car Danger Zones Exposed
While the City of London is something of an outlier (see our sidebar for more information on that), if you are visiting the Square Mile it might be a wise decision to park somewhere other than the Rotunda junction or Aldersgate Street.
In fact, it might be wise not to go by car at all. The City of London has the worst Car Safety Rate in Britain, and in July 2018 alone the city witnessed 30 vehicle crimes.
The majority of those occurred on Aldersgate Street and Rotunda, so parking on Aldersgate, near the Museum of London, will not only cost you a hefty £12 for two hours…it could also put your vehicle in jeopardy.
Further north the West Midlands, home to Birmingham and Wolverhampton, comes fourth on the ranking of the worst parts of the UK to own a car…a dubious honour indeed.
In fact, Birmingham had a colossal 100 vehicle crimes in July 2018 alone, with a worrying 11% of those happening near a local children's hospital, suggesting some criminals may see the vehicles of parents that are distracted or distressed by a child's illness as an easier target.
Revealed: Top Tips to Avoid Car Theft
If you happen to live in one of the UK's danger zones, don't despair…there are a few simple measures you can take that will increase the likelihood that your car remains safe and sound.
Keep valuables out of sight – this is may seem obvious to a security-conscious driver, but it's surprising how many car owners don't lock their possessions away. Even things like phone cables and sat-nav mounts can attract the unwanted attention of thieves.
Turn your car wheels into the curb – Some thieves don't limit themselves to stealing valuables you've left in your car (or the car itself)…they might also try to steal the wheels right out from under it! By turning your wheels in when you're parking your vehicle you'll make the wheels much harder to steal because they will be locked in the wheel well.
Install an anti-theft system – Anti-theft systems are a big deterrent for thieves, and as an added bonus they should also help to lower your car insurance costs.
---
Sources:
https://www.gov.uk/government/statistics/reported-road-casualties-great-britain-annual-report-2017
https://www.gov.uk/government/statistical-data-sets/ras61-motor-vehicle-offences-and-findings-of-guilt
https://researchbriefings.files.parliament.uk/documents/SN00634/SN00634.pdf
https://www.psni.police.uk/globalassets/inside-the-psni/our-statistics/road-traffic-collision-statistics/2018/annual-report-policepsni-recorded-traffic-collisions-2017-18.pdf
https://www.psni.police.uk/globalassets/inside-the-psni/our-statistics/police-recorded-crime-statistics/2018/march/monthly-crime-bulletin-apr-mar-17_18.pdf